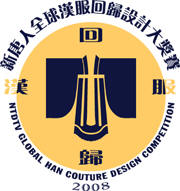 On October 19th, New Tang Dynasty Television (NTDTV) will host the first Global Han Couture Design Competition /fashion Show. With over $40,000 in cash prizes for the winning designers, this competition has brought together some of the Asian community's best and brightest. Over 250 sets of Han Couture dresses designed by over 60 designers worldwide will be showcased in this runway show!
The Competition is aimed at bringing out practical designs that will meet the needs of modern people and are inspired by the depth and inner meaning of 5000 years of Chinese apparel. It will bring out the essence in beauty and style from the clothing of Tang, Song, and Ming dynasties, which builds upon ancient Chinese codes of conduct of benevolence, righteousness, courteousness, wisdom, and loyalty.
Being a part of this competition is like being a part of a renaissance for Chinese culture, says Amy Lee, one of the competition judges. We want to promote traditional Chinese apparel that expresses pure kindness and beauty.
The Han Couture Design Competition is a part of NTDTV's 2008 Global Competition Series. The series is a continuation of NTDTV's ongoing effort to revive the essence and beauty of traditional Chinese culture, and to share that culture with the world.
What: The Global Han Couture Design Competition/fashion Show
When: October 19, 2008
Casual Wear Show: 1:30 pm-2:50 pm ($30)

Formal Wear Show: 3:30 pm-5:00 pm ($30)

Cocktail and Award Ceremony: 5:00 pm - 7:00pm ($40)

Press Conference: 7:00pm -7:30pm