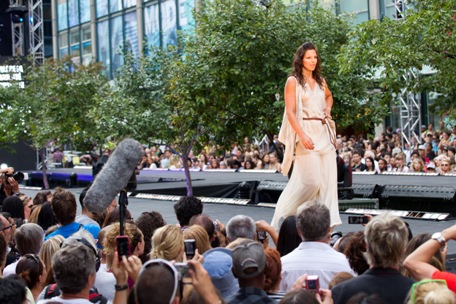 Once again this year, all the signs of an over-the-top success were shining brightly at the 11th annual Montreal Fashion and Design Festival (MFDF): 550, 000 rapt attendees, a blitz of national and international media attention, and an abundance of accolades from famed names and faces including Montréal Opera, Montréal Museum of Fine Arts, Jeanne Beker (Fashion Television) and Tanel Bedrossiantz.
The positioning of Montréal as a fashion capital and as a UNESCO City of Design was solidified in the minds and spirits of all who bore witness to the gilded glitz and glam of the festival, from the history-making Jean Paul Gaultier spectacle on opening night to the last lick of languishing lace at the closing-night lingerie show.
The excitement reached a fever pitch with highlights that included the Hollywood-bound Fashion and Opera show on August 4th and a closed-off Ste Catherine Street that played host to spontaneous spectacles from retailers, Rallye Shopping participants and the public at large, as all were caught up in the festival spirit.
The undeniable talent of our creative fashion and design geniuses was on glorious display for all to experience, from emerging stars to the most established names.
Yet despite the increasingly elevated profile and ever-expanding recognition of the festival, organizers are forced to continue working miracles with only shoestring public financial support from the funds dedicated to festivals.
The various strategies implemented by the different levels of government are designed to foster Montreal's outreach as an international fashion and design capital. Yet the MFDF, which for ten years now has been an incredibly bright beacon and loud voice for this sector, does not enjoy the support needed to meet this objective, under current financing conditions. More and more, the MFDF inspires and embodies the current trend to fashion and design events. We have the advantage of being a leader and having a head start on other major cities. Now we must not only maintain this lead, but increase it.
"Although the festival is among the most notable in Montréal in terms of crowd success, media success, quality of programming and international recognition, it continues to receive minimal Financial support compared to its peers, " reports Jean-francois Daviau, Co-president of Groupe Sensation Mode, creators of the Montréal Fashion and Design Festival.
The festival is a one-of-a-kind concept that meets both financial and cultural considerations. It's accessible free-of-charge to everyone and highlights our creative talents.
Producers aren't sure why adequate funding is such a challenge, but they're hoping that the undeniable fervor surrounding the festival inspires a turnaround in how the government views and supports the event in future years.
A GROUPE SENSATION MODE PRODUCTION
After a lively and exceedingly busy decade, Groupe Sensation Mode continues to produce and present some of the most prominent fashion events in Canada and around the world. It has also created such singular new concepts as the Montréal Fashion & Design Festival, the Fashion Theatre (staged in Berlin, Tokyo, New York and London), and Montréal Fashion Week and Le Showroom concept. Over the past ten years, the innovative events organized by Groupe Sensation Mode have provided an increasingly visible window on the creativity and talent of fashion designers. Having forged partnerships in some of the world's leading fashion capitals - Paris, Berlin and Tokyo - Groupe Sensation Mode is proud of its pre-eminent position among North America's fashion and design leaders.