We hope that you enjoy reading about fashion events. Below you will access to some of our past articles:
With Mercedes-Benz Fashion Week quickly approaching, designer Christina Makowsky is finishing up the last minute touches to her Spring & Resort collections. Unlike the hundreds of other designers who will showcase their creations starting Thursday morning all over Manhattan, she is not anguishing over casting models and producing full-scale runway shows. Makowsky is focusing her 3-year-old company on Hollywood red carpets, celebrity appearances and exclusive trunk shows.

With celebrities like Paula Abdul, Nicole Scherzinger, Cheryl Burke and Kelly Rowland wearing her clothing on national television, and some of NYC's most glamorous women relying on her stand-out style and impeccable fit, Makowsky seems on the brink of something big. With a firm believe in the value of luxury, Christina is showing her latest collections in a very limited fashion to fashion's elite. Christina Makowsky has invited viewers of Apparel Search and members of the Fashion Industry Network to her trunk show at the Plaza Hotel February 13th, 2012. If you wish to attend, you MUST RSVP.
Please find the invite below as well as a sampling of what is in store for Spring/Resort 2012.

This is a great opportunity to do a mini meet & greet with the designer! Christina Makowsky will be available to chat about upcoming trends, the inspiration of this collection and personal style tips to keep you chic throughout the Spring. See an example of the Christina Makowsky collection.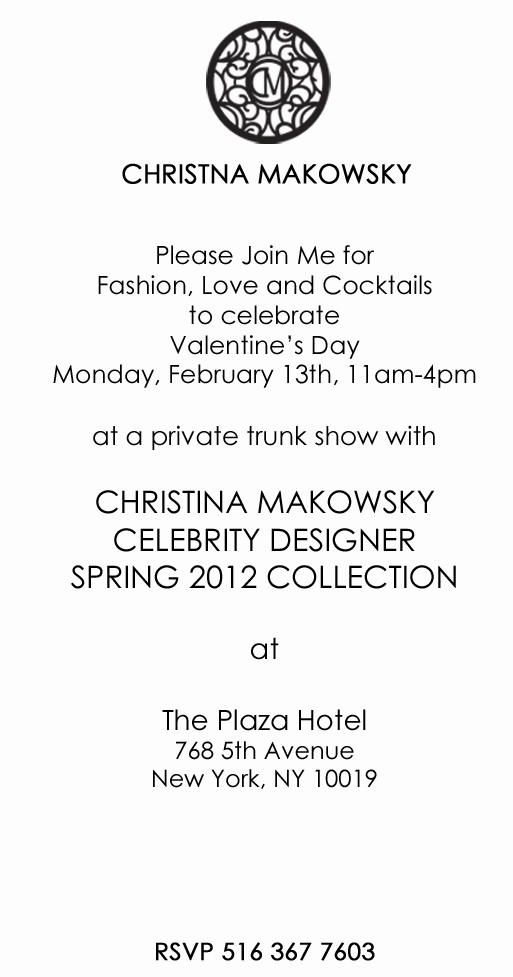 If you have enjoyed this news article, you are welcome to further discuss this event or any other fashion events at the Fashion Industry Network. You can go to the Groups section on that site, and then you will find the fashion events group. That is a perfect place for discussing your favorite events.

If you wish to visit other sites that provide news about fashion events, you are welcome to try the Fashion Newspaper, Fashion News Articles, or Fashion Articles websites.

Due to the fact that you are reading this article, we assume that you enjoy fashion events. If that is correct, you will simply love "fashion week" events. Here are a few links to help you learn more:

Learn more about Fashion Events in the United States at our new fashion events guide.
Read previous fashion event news articles from our news archive: Fashion Event Articles, Fashion Event Articles 2011, Fashion Event Articles 2010, Fashion Event Articles 2009, Fashion Event Articles 2008, Fashion Event Articles 2007, and Fashion Event Articles 2006.
If you would like to review additional categories other then event news, you can research previous fashion news reports from these links: 2011 Fashion Articles, 2010 Fashion Articles and 2009 Fashion Industry Articles.

Search for additional information about Apparel, Fashion or Clothing.
Here are a few fashion calendars that you may find helpful if you are would like to attend an event:
Fashion Industry Calendar
Fashion Calendar
If you work for a fashion designer, popular fashion brand, or fashion event organizer, you are welcome to list your events on the calendar.
You may want to read fashion blogs to learn more about fashion events. Fashion bloggers typically do a good job with reporting on fashion events. If you happen to fancy yourself a Fashion Writers, you are welcome to test out the fashion blog at FIN.
Learn more about fashion events on Google+.