How is this possible
to sit on a big wallet???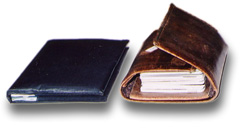 When the ALL-eTT
Billfold is folded to put into the pocket, it has cut down the card stack by AT LEAST 50 percent!
Most wallets, whether they are bi-fold or tri-fold, end up stacking all cards in one stack. Then they add layers of plastic and leather in between the cards.
Step 1) Uses a patented side-by-side design that creates four pockets for cards.
Step 2) A revolutionary material makes the wallet as thin as a dime!
End Result: A slim and comfortable billfold. Once used, it's next to impossible to go back to the old fat wallets.
Both Wallets are Empty



Traditional leather wallets are already bulky even when empty!
Learn more about the ALL-eTT Billfold at www.all-ett.com
Both wallets contain 30 cards.