Designers and brand owners seeking inspiration for branding initiatives that will adorn their upcoming fashion lines can view an abundance of exciting concepts in the Avery Dennison Designer Collection for Spring/summer 09. The combined expertise and creativity of the international design teams of Avery Dennison will be evident in the latest global collection, which will be will be presented at Munich fabric Start, February 6 - 8, 2008,
M,O,C, Munich. At the show, Avery Dennison will occupy Stand A02, in Hall 2.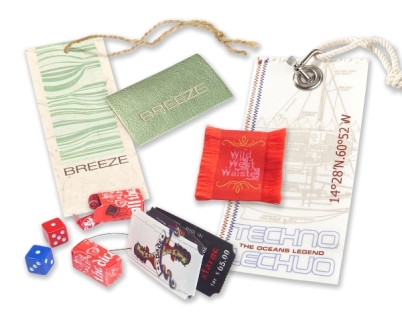 The Spring 09 Collection embodies a theme of Renewal, a concept that reflects Avery Dennison's commitment to be the leading supplier of eco-friendly trim solutions to the fashion industry.
In many ways, however, the Collection brings together opposing materials and concepts for the purpose of crafting something new. It embodies strength through combinations of technology and earth's natural environment, and it sets forth a harmony between innovation and ecology the perfect unity.
Through combinations of organic and synthetic materials, new techniques developed with eco-awareness, and the recycling of unexpected materials, the Collection embraces this unity and looks expectantly to the future.
A vast range of apparel branding products, including graphic hang tags, beautifully fashioned woven and printed fabric labels, leather patches, heat transfers, RFID tickets, size stickers and much more are included in the Collection's two-volume Presentation Book.
Items range from the functional to the fanciful and elegant and include several that embody eco-friendly themes. In what may be considered a heroic example of recycling, one eco-theme includes a hang tag produced from elephant pooh paper. The tags are printed and embossed, have a dull luster and are slightly rough to the touch perhaps reflective of the epidermis of the animal in question!
The Collection also presents the new water-based Avery Dennison Halo-free Eco Transfer, which displays type in sizes less than five point fonts and exhibits no adhesive halo around images or type for a crisp and clean image.
A sustainability solution repurposes old sailcloth for use as handsome hang tags that call to mind the regenerative powers of the sea.
The Collection brings together a whole world of diverse and unique brand identification solutions to challenge traditional schools of thought and inspire creativity.
"The Collection offers many examples that demonstrate the results of our collective, renewed focus, beginning with an interesting use of eco-friendly and sustainable materials, to the re-awakening of interpretation and approach," says Gerard Spinella, Avery Dennison's creative director. Everyone has the desire to begin again and our global Collection will inspire those who embrace the spirit of that renewal.