<![if !vml]>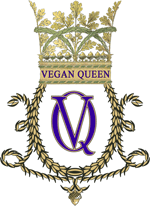 <![endif]><![if !vml]>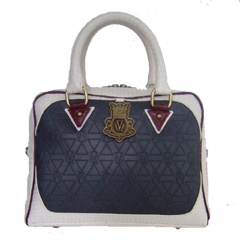 <![endif]>
you've heard it on TV, you've read about it in magazines (and even on our site) and you've certainly heard a slew of celebrities toting the catchphrase eco-chic , but have you truly found a brand of bags that live up to the chic title? Not 100%. Not until now. I'm in love, and you will be too, with the queen of green Vegan Queen. Whether you've been a vegan your whole life or just recently had an awakening to the need for sustainable fashion, you'll swoon at the sight of these ecologically-consciously produced and manufactured handbags. Both outside and inside (eco French cotton terry lining instead of suede!) these bags live up to the lux label. The gorgeous and soft-spoken designer, Evelina (yes just the one name like Madonna and Cher!) practices what she preaches living the vegan life to its luxurious fullness. She took some time to chat with me and relate her royal vision to you bagistas. After reading this piece, I hope you take a chance on this amazing line. You won't be sorry once you do! (PS Check out some of the recent press on Vegan Queen.)
BagTrends: Why did you start designing?
Vegan Queen: I feel like I am a born artist, always expressing my creativity through various channels such as music, performance, modeling, styling and designing. I graduated with a music degree and I also studied accessories design in FIT in NYC. I worked with the top fashion designers in the industry and got inspired to design my own collection.
BagTrends: Why did you decide to do eco bags?
VQ: Vegan Queen represents a new cultural movement towards a sustainable future. It's a socially conscious lifestyle that has been embraced by many celebrities and powerful political figures all over the world. It's a socially conscious approach to luxury dressing. Vegan Queen's mission is to promote a luxurious healthy lifestyle while insuring a sustainable future.
BT: Can we expect from Vegan Queen this season?
VQ: Expect a lot of colors and sleek shapes. The VQ collection is a work of contrasts and signature details..
BT: What inspires your designs?
VQ: Vegan Queen is about strength, empowerment, courage and sensuality. It's about modern luxury with sustainable approach. It's a new vision of the masculine meets feminine approach. Silhouettes are geometric with striking masculine and feminine combinations. A softer feminine flavor comes from nature inside of the bag, which is an organic cotton French terry lining. Outside all bags are masculine and structured with strong eco-luxurious materials.
BT: Is it difficult to find the materials you need- and to get a variety of materials?
VQ: It has been quit challenging to find and develop all the materials. I use high quality materials and develop according to the ecological standards, so it was a challenge to find a factory in New York that would accommodate.
BT: Do you follow any seasonal trends or keep an eye out for what celebs are wearing?
VQ: I follow color trends. The VQ colors of the season are earth tones such as grey, taupe, red, white and black.
BT: Who is the 'Vegan Queen' bagista?
VQ: Vegan Queen represents the Queen who lives in the ecological castle. Powerful yet responsible, she appreciates the finest things in life, while limiting her impact on the world around her. Today's modern fashionista and veganista cares about how she looks and her impact on the environment. Vegan Queen is for the woman who is aware of whom she is.
BT: What is your favorite bag from the current season?
VQ: I like the Diamond bag (shown above) for it's signature oversized composition.
BT: If you could put any woman in your bag, who would it be and why?
VQ: Natalie Portman wears the Eco It bag by Vegan Queen now. I have my favorite wish list of women I'd like to see in VQ bags such as Cameron Diaz , Madonna, Charlize Theron and Cate Blanchett.
BT: What are your in-the-bag essentials?
VQ: I carry very few everyday essentials just a lip plumper, hand cream, hydrating water spray and Tea Tree chewing sticks. I also have with me my notebook, Blackberry, camera and metro card.
BT: What other handbag brands, aside from your own, do you admire?
VQ: I like many designers with sensual style. I like the use of sophisticated colors and many colorful prints.
BT: Complete the following sentence: My personal style is...
VQ: ...fashion forward as well as cosmopolitan with a strong accessory accents.
BT: What's the next big trend for handbags?
VQ: I see a lot of clutches in many bright colors. I also have some clutches and bigger wallets coming up for the VQ collection.
BT: What advice do you have for aspiring designers?
VQ: Think big and do not let anyone take away your dreams. Establish your positioning and stick to it.