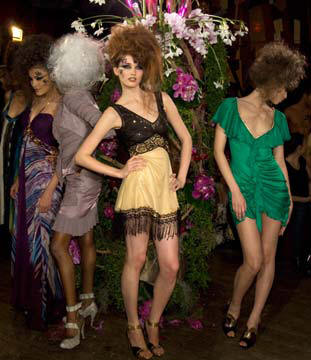 While his happening presentation, Christophe Guillarm
shown his new fall/winter collection 2009- 2010 at the Balajo, edgy dance club, for more than 500 happy fews on march 4th, first day of the Paris Fashionweek.
Cameras were turning crazy because of famous beauties who come to support the young designer: Choreographer Mia Frye, singer Hlne Segara, former miss France 2007 Rachel Legrain Trapani

And last but not least super model and TV host Victoria Silvstedt who arrives in the middle of the show, like a stunning appearance!
The inspiration was Eve but far from a girly attitude: An amazon frankly punk rock and couture in the same time; Wearing a rose tatoo throw the eye in a new age mood: Dressed with amazing draped pieces in deliquescent chiffons and silky jersey; Headlights tones were ruby red, emerald green, smoked grey, black and white to compose an essential palette for a fashion big bang.
This new Eve was in the Garden of Eden surrounded with surnatural foliage, with an edgy electro sound roaring as a hymn to pure creativity.