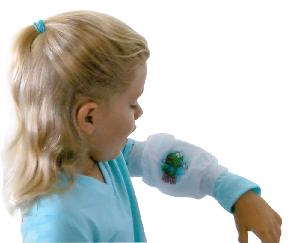 With the current outbreak of the Swine Flu in the United States, and the anxiety it has brought parents whose children are sharing their days with other kids in preschool and daycare, it's becoming increasingly important to address the issue of preventing the spread of all types of viruses amongst America's youth.
Statistics say colds and flu's are most commonly spread through touch. And with the ever-present runny noses, the coughing and the sneezing, and those sticky little fingers that seem to touch everything, it's no wonder our kids are always sick!
That's why California-based mom Margaret Back invented the Germy Wormy: a simple germ-catching arm sleeve that children can wear over clothes to help captures viruses. The CDC recommends coughing and sneezing into the elbow area as a more effective way of preventing the spread of germs while one is sick.
The Germy Wormy offers a clean surface for kids to use instead of a tissue, to catch those nasty little infectious germs. Combine the heath aspect with a comfortable, whimsical arm sleeve, and the Germy Wormy provides a useful yet fun way for kids to stay clear of colds and flu's so commonly spread through sneezing, coughing and runny noses and watery eyes.
In fact, healthcare professionals have already gotten on board with this amazing product. Dr. David Katz, the "Vital Finds" columnist for Prevention magazine, wrote:
"I am pleased to discover a concept of real potential value and into this category goes the Germy Wormy. Colds are generally transmitted by direct touch--if the viruses are not on the parts with which we do the touching, transmission rates fall. This concept has been very nicely upgraded by the Germy Wormy, which is both an educational program for young children, and a disposable, sanitary elbow sleeve... in essence, a handkerchief you wear. The worm gets the colds, so kids don't."
The Germy Wormy disposable sleeve is made of the same material as conventional disposable diapers. The thin plastic bottom layer prevents germs from reaching the skin or clothes below, while a soft woven top layer catches the germs but is gentle enough on sensitive noses. The comfy elastic bands keep the sleeve in place all day.
What's more, the company offers a DVD educational program that entertains while educating parents and children how to decrease the spread of germs and illness. The DVD features a puppet show, starring Germy Wormy 'protecting his fort' against sickness, and also includes a Parent/teacher guide.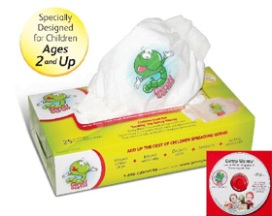 The Germy Wormy is available only through www.germywormy.com, and retails in packs of 10 for $4.50 or 25 for $9.99. The Educational Program is available with purchase for $10. Priority Shipping or USPS First Class mail is available throughout the United States and orders are guaranteed to ship within 24 hours.
Read more children's fashion news.
January 2009 Fashion News Articles
February 2009 Fashion News Archive
March 2009 Fashion Article Archive