A new book is coming from a fashion-conscious American female who writes about her adventures teaching English to conservative Muslim Iraqis in I Have Iraq in my Shoe: Misadventures of a Soldier of Fashion.
In 2008, the recession has hit everyone pretty hard. People are making desperate decisions just to make a living. But giving up a life in New York filled with suede boots and Diet Coke, and moving to Iraq? That's just crazy…
When Gretchen Berg is offered the chance to move to "The Iraq" to teach English, she immediately declines. But after a tempting salary is thrown onto the table, she remembers her looming unemployment and credit card debt of $39,000. The only thing stopping her now is the ridiculously high costs of oversized luggage. Gretchen discovers that in leaving New York behind, she might just find some new adventures, such as:
Falling for a sexy Muslim student fifteen years younger, who may or may not be her soul mate
Meeting the dean of students for the first time at her front door at 10 pm in her pajamas
Avoiding a suicide bomber while drinking vodka drinks by the paddling pool in her friends backyard
Paying almost $5,000 in oversized luggage fees
Becoming a role model for her students, a self-proclaimed "less annoying version of Hannah Montana," a position that she has never found herself in before
Berg's memoir is fresh and intelligent, brutally recounting her year spent in a desert thousands of miles away from her New York City apartment.
I Have Iraq in My Shoe Sourcebooks;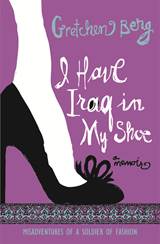 ISBN: 978-1-4022-6579-2; TP $14.99 May 2012
Gretchen Berg grew up in Glen Ellyn, Illinois, and has lived in Iowa, Washington DC, Seattle, New Zealand, South Korea, and northern Iraq. She loves to travel and has been to all seven continents, and more than forty-five countries.
Read more fashion news articles from 2012: January 2012 Fashion Articles
Read more fashion industry news archive from 2011: 2011 Archive Fashion Articles
Read more fashion articles from 2010: 2010 Archive Fashion Articles
Read more fashion articles from 2009: 2009 Archive Fashion Articles

Follow us on Social Networks:
Follow Apparel Search on Twitter
Follow Apparel Search on Youtube
Follow Apparel Search on Facebook
If you want your press releases about fashion to be published, you are welcome to submit them to Apparel Search at any time. In addition, you may want to submit your articles to the Fashion Newspaper.