NBC's "Fashion Star" named Kara Laricks as America's first "Fashion Star" winner in tonight's season finale, earning Laricks the prize of a lifetime -- $6 million in orders for capsule collections in Macy's, H&M and Saks Fifth Avenue stores. In the final challenge, the remaining three contestants were tasked with creating separate showcases consisting of three garments for each of the retailers. The winning garments are available online and in stores tomorrow.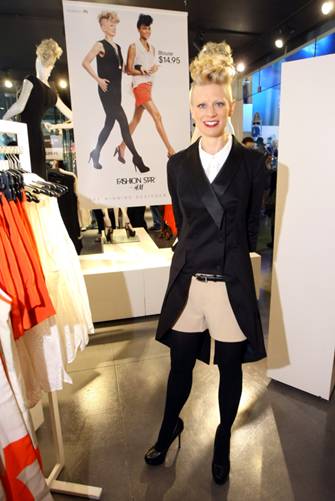 Laricks' winning designs beat out two fellow finalists—Ronnie Escalante and Nzimiro Oputa. Her win comes on the heels of NBC renewing the freshman reality series for a second cycle in 2012-13.
A former fourth-grade school teacher, Laricks always told her students to be true to themselves. Finally, she took her own advice and pursued a career in fashion. She designs androgynous clothing for women, inspired by her love of menswear and an avant-garde Japanese design aesthetic. Best known for her hoodie scarves, collar-plus-tie, Laricks puts a spin on what is deemed traditional women's fashion. @KaraLaricks
Celebrity mentors Jessica Simpson, Nicole Richie and John Varvatos played a crucial role guiding the designers throughout the competition with the hopes that the three retailers would vie for the right to purchase and exclusively carry the work of the up-and-coming designers each week.
"Fashion Star" will return for its second season during Winter 2013 on Sundays (8-9 p.m. ET).
For contestant blogs, embeddable clips and full episodes of "Fashion Star" please visit NBC.com's official show site:
http://www.nbc.com/fashion-star/about/bios/designers/.
"Fashion Star" scoured the country in search of the next big brand in fashion. Fourteen unknown designers were chosen and given the chance to win a multi-million dollar prize to launch their collections in three of America's largest retailers: Macy's, H&M and Saks Fifth Avenue. The series features host and executive producer Elle Macpherson along with celebrity mentors Simpson, Richie and Varvatos.
The "Fashion Star" format was developed by Ben Silverman of Electus (NBC's "The Biggest Loser," "The Office," and "The Tudors"), Rick Ringbakk of Emmy Award-winning 5x5 Media ("Jamie Oliver's Food Revolution"), and E.J. Johnston and James Deutch of EJD Productions.
The show is executive-produced by Macpherson, Silverman of Electus, Jane Lipsitz and Dan Cutforth of The Magical Elves, Rick Ringbakk of 5x5 Media) and E.J. Johnston and James Deutch of EJD Productions. Electus/engine Distribution will retain all international distribution rights.
See some of our past articles regarding the Fashion Star season 1.
You may want to check out the Fashion Star Episode 5 Summary. If you enjoyed watching the series, you are welcome to discuss the show with other people that watched the show.
Read more fashion news articles from 2012: January 2012 Fashion Articles
Read more fashion industry news archive from 2011: 2011 Archive Fashion Articles
Read more fashion articles from 2010: 2010 Archive Fashion Articles
Read more fashion articles from 2009: 2009 Archive Fashion Articles

Follow us on Social Networks: