Platform shoes can take you higher...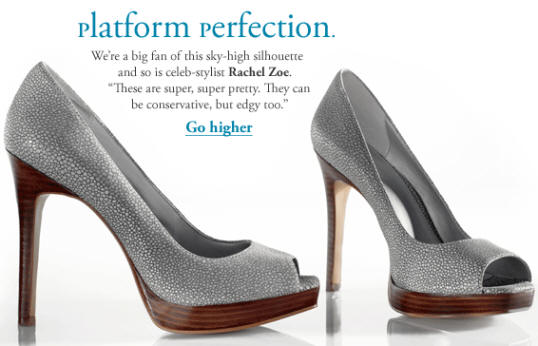 Step into these platforms at Piperlime.
Did you know that Piperlime is a division of Gap Inc.?

Piperlime is a fresh online shop that handpicks the world's best shoes and handbags for women, men and kids. Their collection of more than 200 amazing brands feature the hottest styles and designers. With a distinct fashion point of view, Piperlime shares fresh tips on the latest shoe and handbag trends. And exclusive contributions from guest editors like celebrity stylist Rachel Zoe keep you in fashion and in the know.
Read more fashionable articles regarding Piperlime.
Shimmery Sandals Time to Shine at Piperlime
Fashion Shopping Article Posted February 24, 2009
Piperlime Says The Wedge is The Silhouette for Spring 2009
Fashion Shopping Article Posted February 19, 2009
Learn more about Women's Footwear.
2008 Fashion Shopping Articles

If you want to do more then just read about clothing, you can actually shop for clothing...
Fashion Article Archive :
Fashion Articles February 2009