According to Piperlime, it is your time to shine. Get a look at these shimmery sandals. You can buy these and many other great footwear selections at Piperlime. However, I do not think that the bunny is for sale...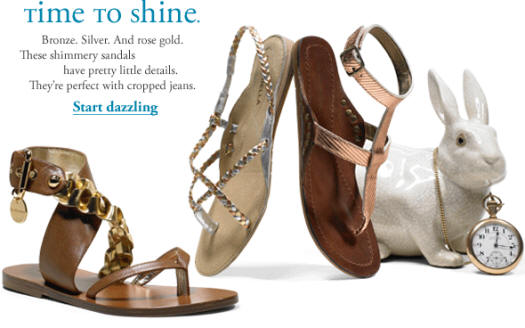 Did you know that Piperlime is a division of Gap Inc.?

Piperlime is a fresh online shop that handpicks the world's best shoes and handbags for women, men and kids. Their collection of more than 200 amazing brands feature the hottest styles and designers. With a distinct fashion point of view, Piperlime shares fresh tips on the latest shoe and handbag trends. And exclusive contributions from guest editors like celebrity stylist Rachel Zoe keep you in fashion and in the know.
Learn more about Sandals and wedge sandals. Also, do not forget to check out the hottest women's footwear fashion at Piperlime.
Piperlime Says The Wedge is The Silhouette for Spring 2009
Fashion Shopping Article Posted February 19, 2009
Fashion Article Archive:
Check out our new clothing guide.
You may also like to view the fashion designers guide.