Stay higher than the people around you.
Welcome to our fabulously trendy guide to Women's Platform Sandals. Are you actually looking for ladies platform sandals? Well, we hope you are because the reality is that you have found our page on the topic.
Platform footwear has an obvious thick sole, usually in the range of approximately 1 - 4 inches. Platform shoes may also be high heels, in which case the heel is raised significantly higher than the ball of the foot.
A sandal is a light shoe with either an openwork upper or straps attaching the sole to the foot.
A platform sandal has an obviously thick sole.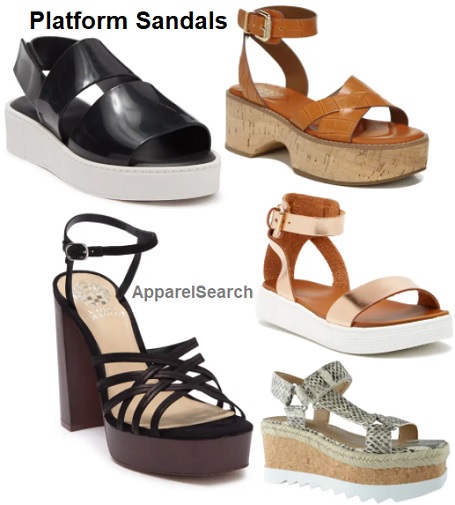 If you enjoy walking around town in your platform sandals, you may have interest in learning more about platform boots and platform shoes.
Learn more about Women's Sandals.
Research additional ladies shoe categories:
Apparel Search is a leading guide to fashion, style, clothing, glam and all things relevant to apparel. We hope that you find this Women's Platform Sandal page to be helpful.
What ever you are wearing, is in fashion.
If you want to be even more stylish, you should wear your favorite Women's Platform Sandals.