Learn more about
Apparel here on Apparel Search.

ICUinPARIS.COM is the online equivalent of that fabulous little jewelry shop you found while wandering the streets of Paris. Carefully curated by a savvy team of creative professionals, each piece has a unique and visually stunning story to tell.

The site offers a wide variety of accessories for both ladies and gents, ranging from bold crystal rings to playful androgynous bow ties. Each piece is hand-picked by the ICU team based on uniqueness, quality and wearability. Although the designs appeal to people of all ages and backgrounds, there's one thing all ICU customers have in common – impeccable style and a passion for one-of-a-kind accessories.

ICU pieces are a lot of things, but one thing they're not is shy. The boldness of the designs reflects the strength and character of the designers, whose profiles are featured on the website along with the stories of their inspiration. Take, for instance, Charlotte Martyr, up-and-coming independent designer and creator of the popular Sabrina Crystal Bracelet. On her inspiration page, she explains that her designs are inspired by Superman and "glamazon muse" Grace Jones, among others.

Prices range from $42.60 (EA Burns, Large Recycled Black Leather Diamond Pendant) on the low end to $1,476.80 (AEA, Scheherazade Necklace) on the high end. The website is available in English and French, and users have the option to shop in Pounds, Euros or U.S. Dollars. Customers can pay online by credit card and worldwide shipping is available.

To see the latest looks from ICUinPARIS.COM, browse their 2011-2012 Lookbook found on their website.

Founded in the U.S. in 2010 and now based in Paris, ICUinPARIS.COM is the leading online boutique for independent designer jewelry & accessories. ICU stands for: Independent. Curated. Unique and our mission is twofold: to provide top-quality service and products to our customers and to find and support independent designers from all over the world. ICUinPARIS.COM is a boutique for the creative made by the creative and loved by the creative; you will not leave uninspired.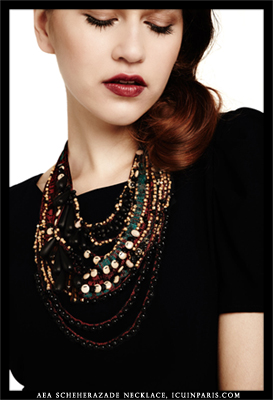 ◊ Shopping For Women's Clothing
By the way, you can find fashion boutiques on Apparel Search, if you were interested. You can find them in the fashion boutiques section.
2012 Fashion Shopping News Articles