Jenni "JWoww" Farley, The Jersey Shore's bronze goddess, has recently teamed up with Perfect Tan Bikini in designing and developing her own line of stylish and sexy bikinis, JWOWW by Perfect Tan Bikini. The line will become available in early Spring of 2012. Designers of the original Perfect Tan Bikini, founder and president Richard Reisman and Claudia Cardenas have crafted an affordable, fashionable swimwear line that offers comfort without unsightly tan lines. In a collaborative effort with Reisman and Cardenas, co-designer Jwoww has amped up the style and sex appeal of the innovative bikini to produce the new line, JWOWW by Perfect Tan Bikini.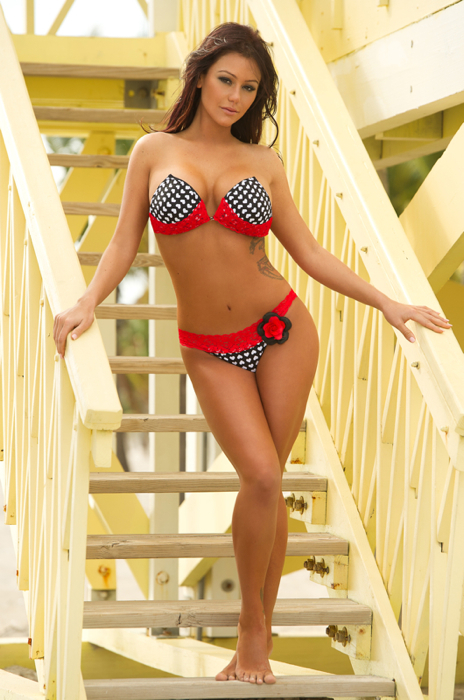 Carefully developed and constructed with a woman's shape in mind, Perfect Tan Bikini has a unique fabrication that gives women the option to remove the straps of the bikini, while the top stays in place. Every style is lined with their revolutionary patented silicon based adhesive Stick2, which is activated by your body temperature; the warmer you get, the more it stays in place. Likewise, the adhesives, which can be reused up to 20 times, can be reactivated by the heat of a blow dryer, or a simple hair straightening iron.
This revolutionary swimwear line offers a myriad of fashion-forward silhouettes for women of all ages. Traditional bikinis and one-piece halters are manufactured in brightly hued metallic animal and camouflage prints, adorned with chain-links and gold rings. Classic solids such as white, black, red, and pink, are also available. This style conscious, yet functional bikini embodies the carefree, relaxed attitude of vacationers in a clean, fashion-forward design that displays the brand's philosophy: "sexy is better when it is flirty and comfortable."
Since its launch in the Summer of 2010, Perfect Tan Bikini has been featured on The Today Show, E!, Playboy Magazine, The Big Idea and on the runway at Mercedes Benz's Swim Fashion Week this past July in Miami, FL.
View more swimwear photos of JWoww.