Learn more about
Apparel here on Apparel Search.

Rad and Refined is hosting a trunk show this Sunday at the Ashton Westwood on Wilshire. From 10:30 a.m. to 4 p.m., get your hands on a mix of vintage and contemporary pieces. Brands include WILDFOX, House of Harlow, Rory Beca, and many more!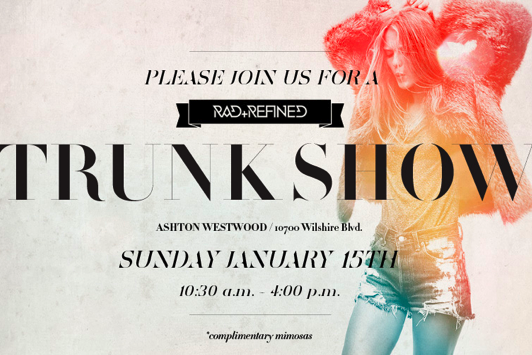 Learn more about this fashion trunk show at http://radandrefined.com/

◊ Shopping For Women's Clothing
◊ Shopping For Children's Clothing
By the way, you can find fashion boutiques on Apparel Search, if you were interested. You can find them in the fashion boutiques section.
You may also want to visit the fashion boutiques guide to find and research boutiques by state.
Don't forget to check the fashion boutique directory as well.

2012 Fashion Shopping News Articles
2011 Fashion Shopping Articles
2008 Fashion Shopping Articles

Fashion News Article Archive 2011
Check out our new clothing guides.
You may also like to view the fashion designers guide.
Learn more about women's fashion, men's fashion and children's fashion.