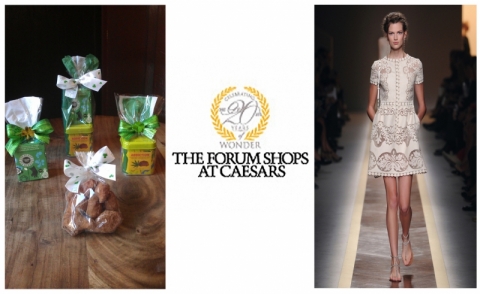 FORUM FASHION FORWARD TIP: This month, fashion is in bloom at The Forum Shops at Caesars where retailers are celebrating the arrival of their new 2012 springtime collections. It's all about a touch of retro nostalgia this season including the comeback of high-waist pants. The bold silhouette was a staple of the 70's and 80's and this flattering trend leaves legs looking longer and makes for a very sophisticated look. The high-waist trouser trend is in full swing from Marc Jacobs to Gucci to CH Carolina Herrera. Fashion forward tip? Less is significantly more when it comes to assembling an outfit with high-waist pants. It is also all about color this spring be it bold and vibrant patterns or soft yet powerful pastels. This colorful trend was clearly evident at this year's Golden Globes where soft and delicate pastels including rose, blu sh, peach and lavender proved a lovely alternative to typical vibrant colors. Charlize Theron wore a beautiful, light pink Dior Haute Couture; Jessica Alba rocked a glamorous rose colored Gucci gown while Mary J. Blige sported an elegant, peach Michael Kors dress. Spring's sparkling pastel palette can easily and readily be paired with more pastels as seen at Versace, from ice blue to lavender, lemon and pistachio. Add a little flirty and feminine flair this season with lovely lace. The spring arrivals at Louis Vuitton are highlighted by the abundant use of eyelet lace forming fields of daisies. To soften the effect even more, these pieces were veiled in sugar-almond-colored organza layers. The use of lace this season is also in store at Valentino from a white, leather hand bag constructed of lace to new daywear lace fabrics.
MAX BRENNER – CHOCOLATE BY THE BALD MAN, THE PALM – LAS VEGAS, P.J. CLARKE'S AND SUSHI ROKU SET TO PARTICIPATE IN SPRING RESTAURANT WEEK: A number of restaurants inside The Forum Shops at Caesars are taking part in the first inaugural Spring Restaurant Week in Las Vegas from Feb. 27 – March 4. Also held in the fall, Spring Restaurant Week provides locals and tourists the unique opportunity to dine at many of the city's best restaurants at affordable pre-fixe prices while helping to support Three Square Food Bank – Southern Nevada's only food bank. Enjoy a multi-course meal at Max Brenner – Chocolate by the Bald Man, The Palm – Las Vegas, P.J. Clarke's and Sushi Roku while helping to fight hunger in the community. For more information and to see menus, visit www.helpoutdineoutlv.org.
MARNI FOR H&M LAUNCHES MARCH 8: An eclectic collection filled with quirky pieces, Marni at H&M debuts at 8 a.m., on March 8 inside The Forum Shops. The Marni collection at H&M is a modular wardrobe for women and men, complete with accessories. It is composed of elegant items selected by Marni's creative director and founder, Consuelo Castiglioni, from her extensive repertoire to create a playful range of style possibilities. A sense of sophisticated eclecticism is mixed with a sporty allure; the accent is on the streamlined purity of design and the intensity of surfaces. The result is high on prints and spring energy, with the unmistakable Marni signatures evident in the juxtaposition of shapes, patterns and materials.
JOHN VARVATOS DEBUTS AS CELEBRITY MENTOR ON NEW REALITY COMPETITION SERIES "FASHION STAR": Renowned American menswear designer John Varvatos is set to debut as a celebrity mentor on the highly-anticipated new reality competition series "Fashion Star" March 13 on NBC. The new 10-episode competition series will search for the next big brand in fashion. Varvatos joins three other celebrity mentors including; actress, author Nicole Richie, celebrity mentor Jessica Simpson and host Elle Macpherson. The series is designed not only to groom and discover America's next popular brand, but through an exciting new format twist, it will allow viewers at home to buy the winning designs each week. The show will target real-time consumer feedback and interactivity and will span all categories of fashion from suits and dresses to lingerie, denim, bathing suits, accessories and more. One of the most well-kn own menswear fashion designers in the country, Varvatos brings his trendsetting design skills and expertise to the contestants each week on NBC.
ENJOY THE LUCK OF THE IRISH AT THE FORUM SHOPS: Embrace your inner Irish heritage for the greenest holiday of the year at The Forum Shops at Caesars. In honor of St. Patrick's Day, P.J. Clarke's hosts their second annual St. Patrick's Day party. On Saturday, March 17, the restaurant will throw a celebratory bash with Irish eats including Corned Beef Sandwiches ($15.20), Corned Beef and Cabbage ($18.84), and a never ending flow of Guinness. Even better, from March 1- March 17 there will be a pair of shiny, new Vespa scooters parked outside of the restaurant. During this time, guests of the mall and the restaurant are encouraged to purchase St. Patrick's Day/p.J. Clarke's branded t-shirts and become eligible to be entered into a raffle to win the pair of Vespa scooters (winners will be announced on March 18). Proceeds from the sale of all raffle tickets will benefit Three Square, S outhern Nevada's only food bank. Twice as nice, P.J. Clarke's will match the donation. It's the glamour and excitement of the big screen with an Irish twist at Planet Hollywood Restaurant & Bar with $5 drink specials including Jameson shots, Irish coffee and bottles of Guinness. Looking for something sweet this St. Patrick's Day? Max Brenner – Chocolate by the Bald Man offers an array of St. Patty's Day treats and gifts including a whole line of specialized St. Patty's Day chocolates. Top picks include the nine-piece boxed bon bon assortment and the popular Hug Mug gift set. Stop by Vosges Haut Chocolat this month and try the Guiness Dark Chocolate Truffle – perfect for St. Patrick's Day.
KATE SPADE NEW YORK TO OPEN INSIDE THE FORUM SHOPS: In 1993, Kate Spade designed the utilitarian bag she'd been craving for years but couldn't find anywhere and so began a revolution in the accessories market. This month, Kate Spade New York brings the utility, wit and playful sophistication synonymous with the brand to The Forum Shops at Caesars. Set to open mid-april, the 2,186 square foot store will feature all product lines including Kate Spade New York handbags, apparel, legwear, shoes, eyewear, fragrance, paper, and home. Simple silhouettes with clever details and crisp palettes established visual shorthand for the brand that's recognizable the world over.
Learn about The Forum Shops at Caesars Palace in Los Vegas.
Learn more about The Forum Shops at Caesars on Wikipedia.