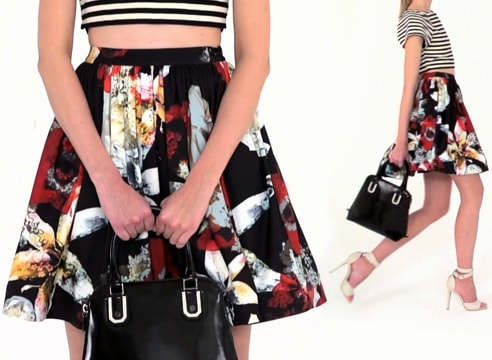 The contemporary brands fashion market is clearly brimming with a high level of competition. The up-and-coming contemporary designers are forced to continuously compete with older, established luxury brands in the targeting of the younger generation of consumers.
The contemporary market began out of consumers' need and want to own versatile clothing that could be worn on a daily basis. Stylish consumers were hungry for locating a head-to-toe outfit that luxury brands create, but could be sold at a more reasonable price point.
The luxury industry makes clothing for occasions that are special, not for a woman's everyday life. Designer collections and Haute Couture lines are great, but trendy women with a little less money to burn needed an alternative. Contemporary apparel is clothing that is accessible, in price and in terms of the way people wear it.
The contemporary category often contains more modern-style clothes compared to the higher end luxury market. The voice of the contemporary industry is a bit more modern and a tad younger (not always, but often).
So what do the brands in this category all have in common? It's all about quality. Even the most basic item feels luxurious and are finely crafted. Many labels offer a strong brand aesthetic and, in some cases, are almost contenders to leading luxury brands. Contemporary brands need to go beyond simply offering trendy fashion items. Quality fabrics and trimming on all products are important for the brand.
In today's world many consumers are shopping across categories. The contemporary shopper and the luxury shopper may actually be the same person. Affluent consumers are shopping across categories, and less affluent consumers are shopping up levels as far as they can comfortably reach. As the turnaround of catwalk trends on the high street becomes even quicker, with new items dropping in-store every week, people are turning to these labels for individuality.
Due to the fact that contemporary brands appeal to several groups of consumers, this industry will continue to see global opportunities.
Fashion editors and industry insiders agree that contemporary brands have stolen the limelight and are helping to bridge the gap between luxury brands and main street.
Contemporary brands appeal to both the luxury shopper and the new breed of aspirational shopper. This tier has become a go-to for women who can no longer justify shelling out huge amounts of cash on designer garb. It is also appealing to people bored of fast fashion and who are prepared to spend that little bit extra for something that will last.
Consumers want to feel like they own something special and unique. They want exclusive quality labels that are not mass produced, yet are still affordable. It is important to keep in mind that this category is less expensive then higher tiers such as Haute Couture, but the prices are clearly higher than budget collections.
A great contemporary brand is one with a unique look and feel. Garments and accessories will have interesting construction details and a good-quality finish. The collections are in line with seasonal trends but also incorporate signature items that consumers immediately recognize and associate with the designer brand.
Learn more about the following:
Here are a few more brands to consider in this category:
The British designer and Central Saint Martins alumnus is best known for his ultra-desirable, pared-back clothes and extreme attention to detail. But don't be fooled; his clothes are far from simple. Each season, he updates wardrobe classics by playing with textures and interesting fabrics such as bonded velvet, pony skin and quilted leather. If you're a fan of masculine tailoring, Neil may be your go to man.
Launched by husband-and-wife duo Didier and Evelyne Chétrite, Sandro is a well-known and popular brand in the contemporary market. Since its launch in 1984 (in the Marais district of Paris), the label has gathered a cult following with women charmed by its insouciant, season less separates and rock'n'roll aesthetic. Sandro has stores worldwide in places such as New York and Japan, and a flagship store based in Covent Garden, central London.
While you can expect to see the odd trend-led piece such as a pink coat or monochrome checks, Italian label Maryling aims to provide the perfect capsule wardrobe for work and leisure. Accessories fans are well catered for with an extensive range of bags, footwear, jewelry and other fine accessories.
Founded by Maia Norman, the label fuses sportswear-inspired pieces with luxury fabrics to create bold, eclectic work. Heavily influenced by Norman's strong connection with the art world, the label collaborates with an acclaimed artist each season, with head designer Amy Powney cleverly incorporating their work into prints within the collections. An avid sportswoman and fashion enthusiast, Founder Maia Norman's lifestyle and surroundings have heavily influenced the brand ethos and direction of Mother of Pearl.
More of a fashion-forward look, than just a specific price point, the contemporary classification is often aimed at women in their '20s and early '30s who are looking for trendy apparel, but at an affordable (at least compared to designer) price.
The changing demographic of fashion consumers and the rise of contemporary brands. To stay in the game, luxury fashion marketers must compete on a global scale.
Example Retailers: Neiman Marcus, Nordstrom, Bloomingdales, Harvey Nichols
Example Labels: Mother of Pearl, Calla, JW Anderson, Richard Nicoll, BCBG, Betsey Johnson and Rebecca Taylor
If you have comments or questions regarding the subject of this page, you are welcome to share your thoughts in this user comments section below. Please keep your discussion directly relevant to the topic.