Whether you're pushing through a workout or relaxing on the weekend, find the look that matches your style with Nike women's clothing. The Nike brand is interested in more than simply making women look stylish. The company has has a desire to help athletes improve performance. They actually have a research lab for this purpose. The research lab is an integral part of the Nike Explore Team, whose mission is to drive product innovation for athletes everywhere. The lab fuels product innovation specifically through knowledge and insight gained from a scientific understanding of athletes and athletic performance. the lab continues to deliver proven scientific insights that help drive performance innovations across the Nike brand.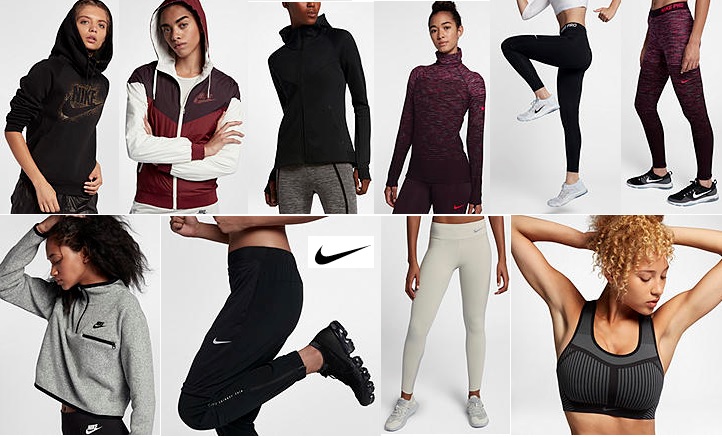 Engineered to keep you comfortable and help you get the most out of every movement.
Learn more about women's Nike clothing and footwear.
Sustainable innovation is a catalyst for revolutionizing the way Nike does business and an opportunity that's been integrated across their business in policies, processes and products. They are innovating solutions that benefit athletes, the company and the world. They are not only transforming what products they make, but also how they make them through new technology and sustainable labor innovation.
NIKE, Inc., based near Beaverton, Oregon, is the world's leading designer, marketer and distributor of authentic athletic footwear, apparel, equipment and accessories for a wide variety of sports and fitness activities. Wholly-owned NIKE, Inc. subsidiary brands include Converse, which designs, markets and distributes athletic lifestyle footwear, apparel and accessories; and Hurley, which designs, markets and distributes surf and youth lifestyle footwear, apparel and accessories. For more information, NIKE, Inc.'s earnings releases and other financial information are available on the Internet at http://investors.nike.com. Individuals can also visit http://news.nike.com and follow @NIKE.
If you have changed your mind and do not wish to research the brand Nike, you can use the search engine on this page to find another clothing label that may be of more interest.
When you are ready to research additional fashion brands for women you can try the following pages to find our alphabetical list of women's fashion brands.
Have you seen our Fashion Designer Directory section?
Apparel Search is a leading guide to fashion, style, clothing, glam and all things relevant to apparel. We hope that you find this Nike page to be helpful.
The clothing that you are wearing today is most definitely in style. You are clearly a trendsetter.

Nike