Men's Wool Pea Coat: Directory and information regarding men's wool pea coat presented by Apparel Search
About Wool for Menswear Benefits of Wool Wool Quality Men's Wool Clothing Guide Men's Clothes Men's Apparel Men's Fashion News Shopping for Men's Clothing Men's Clothing Stores Men's Clothing Wholesalers Men's Fashion Wool News Wool Research Wool fiber Wool Definition
Welcome to the worlds greatest guide to men's wool pea coat. Are you actually looking for a men's wool pea coat? Well, we hope you are because the reality is that you have found our Men's wool pea coat page. In this area of the Apparel Search directory, you will find all sorts of interesting information regarding wool pea coat for men.
Do you know what this style of coat looks like? Here is one example of a wool navy pea coat.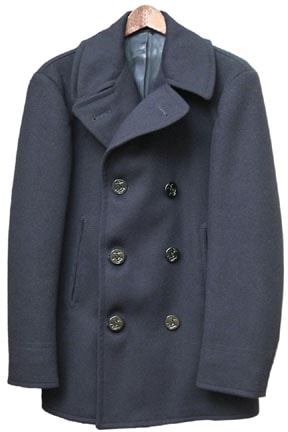 A pea coat (or pea jacket, pilot jacket) is an outer coat, generally of a navy-coloured heavy wool, originally worn by sailors of European and later American navies. Pea coats are characterized by short length, broad lapels, double-breasted fronts, often large wooden, metal or plastic buttons, and vertical or slash pockets. References to the pea jacket appear in American newspapers at least as early as the 1720s, and modern renditions still maintain the original design and composition.
You may also want to learn about other wool coat and wool jacket styles. Yes, their is a difference between coats and jackets.
It is always a fabulous day to learn more about men's fashion.
Men's Clothing Directory:
Apparel Search Add Your Company Contact Us About Us Advertise News Letter Legal Help
Copyright © 1999-2019 Apparel Search Company. All Rights Reserved.