In this ladies clothing section of the Apparel Search directory, you will find all sorts of interesting information regarding lovely cotton robes for fabulously trendy ladies.
Their are many different types of robes. In summary, a robe is a long, loose outer garment. Unlike garments described as capes or cloaks, robes usually have sleeves. They can be used as nightwear, ceremonial occasions, certain professions (judges), etc. When we discuss cotton robes, we are generally referring to bathrobes, loungewear, or nightwear.
A bathrobe, dressing gown or morning gown is a robe, a loose-fitting outer garment, which may be worn by men or women. A dressing gown may be worn over nightwear or other clothing, or with nothing underneath. Dressing gowns are typically worn around the house and bathrobes may sometimes be worn after a body wash or around a pool. They may be worn for warmth, as a convenient covering over nightwear when not being in bed, or as a form of lingerie. A dressing gown or a housecoat is a loose, open-fronted gown closed with a fabric belt that is put on over nightwear on rising from bed.
Cotton is a soft, fluffy staple fiber. The fiber is most often spun into yarn or thread and used to make a soft, breathable fabrics. The fabric is often used to produce a wide variety of apparel including robes. Cotton can feel soft & comfortable to the touch, and the organic nature makes it extremely breathable. Cotton can also help wick moisture away from the wearers body. This is beneficial when putting a robe on after the bath or shower. Learn about the many benefits of cotton fabrics on the Fashion Blog.
You can find numourous styles of robes at various retailers. A few would include wrap, kimono, jersey, short robes, long robes, mid-length, with belts, with buttons, solid color, printed, monogramed, etc. One of our favorites is a luxuriously soft and comfortable robe in stretchy cotton with dropped shoulders and a wrapped waist.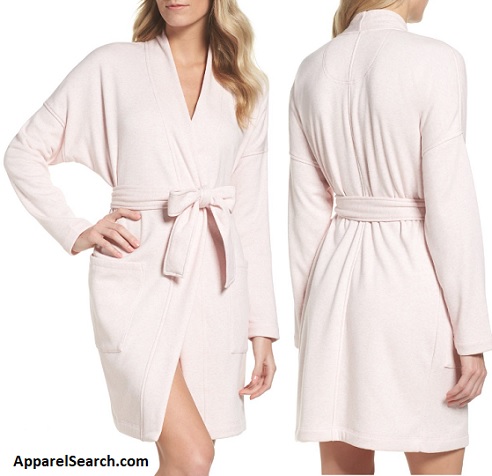 By the way, once you own a robe it is hard to throw them away. For some reason, you can easily become attached to them like you would be to a childhood teddy bear. They are simply hard to throw away. If you get the proper soft & comfortable robe, you may have it for a very long time...
Apparel Search is a leading guide to fashion, style, clothing, glam and all things relevant to apparel. We hope that you find this Women's Cotton Robes page to be helpful.
What ever type of garment you are wearing today is in fashion.
If you want to be even more stylish, you should wear your favorite cotton robe.
You may have interest in learn more about Silk Robes, Satin Robes, or Cotton Terry Robes or other types of Women's sleepwear and loungewear.

Learn about Women's cotton fashion.
Thank you for using the Apparel Search website.