In this women's clothing section of the Apparel Search directory, you will find all sorts of interesting information regarding cotton terry robes for women.
Terry is a fabric with raised uncut loops of thread covering both surfaces, used especially for towels and robes.
Terrycloth, terry cloth, terry toweling, terry, or simply toweling is a fabric with loops that can absorb large amounts of water. It can be manufactured by weaving or knitting. Toweling is woven on special looms that have two beams of longitudinal warp through which the filler or weft is fired laterally.
A robe is a long, loose outer garment. A bathrobe is a robe, typically made of terry cloth, worn especially before and after taking a bath.
Cotton is a soft white fibrous substance that surrounds the seeds of a tropical and subtropical plant and is used as textile fiber and thread for sewing.
Cotton terry bathrobes are a very popular type of robe.
They come in a wide variety of styles & lengths.
You can find shawl collar, patch pockets, long sleeves, short sleeve, and many other various features.
Here is an example of a supremely soft terry cloth is trimmed with pretty contrast piping in this bedtime-ready short knit robe.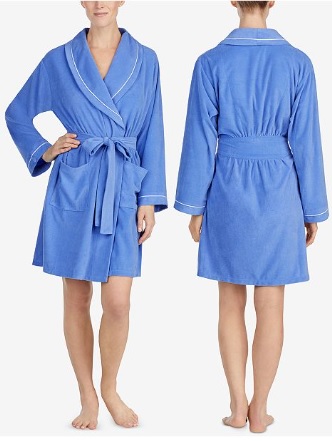 A popular choice is to get your robe monogrammed.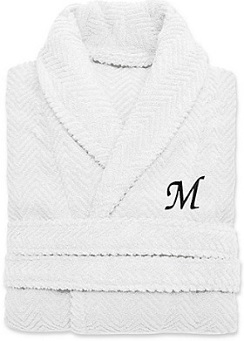 Dry off after a bath or shower in the plush comfort of fabulous robe.
You may wish to also learn more about Silk Robes, Satin Robes, or Cotton Robes.
Apparel Search is a leading guide to fashion, style, clothing, glam and all things relevant to apparel. We hope that you find this Women's Cotton Terry Robes page to be helpful.
What ever you are wearing, is in fashion.
If you want to be even more stylish, you should wear your Women's Cotton Terry Robes.

Thank you for using the Apparel Search website.