In this women's clothing section of the Apparel Search directory, you will find all sorts of interesting information regarding ladies sportswear made of cotton.
What is sportswear? It can be clothing for sports, but not neccessarily.
Sportwear is clothes worn for casual outdoor use or for such sports activities as jogging, cycling, tennis, sailing, etc. The term is not necessarily synonymous with activewear. Sportswear is an American fashion term originally used to describe separates, but which, since the 1930s, has come to be applied to day and evening fashions of varying degrees of formality that demonstrate a specific relaxed approach to their design, while remaining appropriate for a wide range of social occasions. the early American sportswear designers were associated with ready-to-wear manufacturers. Please visit our sportswear page in our fashion influence section to learn more.
Garments are often designed to be easy-to-wear and comfortable, using practical fabrics such as denim, jersey, etc. The clothing in this category are often made of cotton.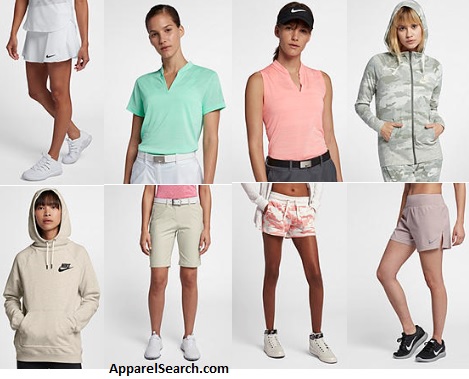 Cotton is a soft, fluffy staple fiber that grows in a boll. The fiber is most often spun into yarn or thread and used to make a soft, breathable textile. Cotton has numerous benefits that make it an appropriate fiber for women's sportswear. Learn about the numerous benefits of cotton.
In the 1930-1945, Dressy garments made from casual fabrics, such as McCardell and Joset Walker's evening dresses and dress-and-coat ensembles made out of cotton, became a key sportswear look. The American couturier Norman Norell declared that McCardell could make a smart dress to wear anywhere out of "five dollars worth of common cotton calico." Other sportswear designs often incorporated elements of sporty informal or casual wear, as exemplified by Clare Potter's evening sweater worn with a long skirt draped like a sidesaddle riding habit.
During the 1970s, Lauren, Calvin Klein and Perry Ellis became particularly known for their sportswear designs, made in all-natural fibres such as wool, combed cotton, and linen, which placed them at the top tier of American fashion design alongside the Anne Klein label.
In addition to the high-end names who produced apparel in large quantity, a more personal level of sportswear was offered in the early 1980s by smaller designers such as Mary Jane Marcasiano and Vass, who specialized in hand-knits in wool and cotton.
In 2000, the Lifestyle Monitor, an American trade magazine owned by Cotton Incorporated published that their surveys showed that an average of 64% of women interviewed preferred casual wear, including sportswear as distinct from active wear.
Sportswear can be made of 100% cotton or it can be made of blended fibers. Sports wear for athletics is often a blend of polyester and cotton. One of the main reasons why Polyester is used in sportswear is due to its wicking property. Wicking means ability through which the sweat is transferred from the body and evaporated easily. Cotton can also be blended with fibers in addition to polyester.
From work to play, sportswear to evening wear, cotton is there. The fiber is so versatile that it can be woven or knitted into a bunch of different fabrics that are appropriate for this apparel category.
Typical sport-specific garments include tracksuits, shorts, T-shirts and polo shirts. Specialized garments include swimsuits (for swimming), wet suits (for diving or surfing), ski suits (for skiing) and leotards (for gymnastics). Sports footwear include trainers, football boots, riding boots, and ice skates. Sportswear also includes bikini and some undergarments, such as the jockstrap and sports bra. As a reminder, sportswear is also worn as casual fashion clothing.
Learn the difference between sportswear and activewear.
You know, I bet you would look good wearing Women's Cotton Sportswear.
You may also have interest in cotton athletic apparel for women.
We hope that you have found enough women's cotton fashion to satisfy your needs.. If you are done with this section, you can return to the women's fashion guide for more choices. Or you can continue to learn about women's cotton fashion.

Thank you for using the Apparel Search website.