In this women's clothing section of the Apparel Search directory, you will find all sorts of interesting information regarding cotton thermal underwear for women.
Thermal knit fabric with a waffle or honeycomb texture that's made to trap warm air between the yarns, making it the perfect fabric to wear during the cold winter months.
The word 'loft' can be used to describe how thick the insulating air space created by clothing is. Puffer jackets trap lots of air, so they have a high loft, and keep you warm. So how does super-thin thermal underwear work? Although thermals provide some insulation, their main job is to fight evaporative cooling.
European manufacturers use wool blends or even 100% wool, usually Merino or other high-quality wool. Some fabrics might include a thin layer of polyester to transport moisture away from the skin. Wool, in addition to being fire retardant, provides highly effective insulation and will keep its insulating properties even when wet, as opposed to cotton. Technically, "thermal underwear" is made from two-ply fabric of either a wool layer and an artificial fiber, only wool or – again mostly in the U.S. – two layers of only artificial fibers, which uses trapped body heat to insulate against cold air. HOWEVER, in the United States (and probably other countries), cotton is also used and the garment is still called thermal underwear. In the United States, it is usually made from a cotton or cotton-polyester-blend fabric with a box-weave texture.
Undergarments are items of clothing worn beneath outer clothes, usually in direct contact with the skin, although they may comprise more than a single layer. They serve to keep outer garments from being soiled or damaged by bodily excretions, to lessen the friction of outerwear against the skin, to shape the body, and to provide concealment or support for parts of it. They are also used for an added layer of warmth.
Thermal underwear can be made of 100% cotton or blended fabrics. For example, 60% cotton / 40% polyester (other options also available).
The following image of a Hanes garment is a thermal-knit pant featuring logoed elastic waistband, tapered leg, and flat no-rub seams. They are very comfortable and soft and they fit very well and allow for a pair of jeans over them.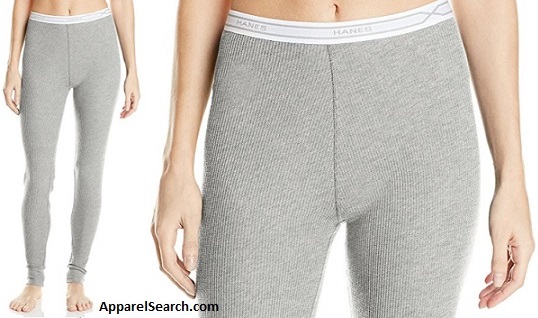 Printed thermals are an option as well so you can get more creative with your long underwear wardrobe.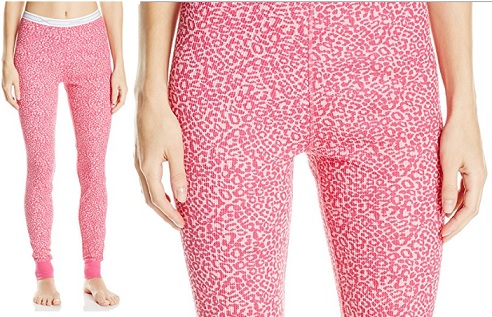 Long underwear, also called long johns or thermal underwear, is a style of two-piece underwear with long legs and long sleeves that is normally worn during cold weather. It is commonly worn by people under their clothes in cold countries. Although typically thought of as a set, they can be sold as separates so that the consumer can purchase only bottoms or tops. They don't have to always be purchased or worn as a set.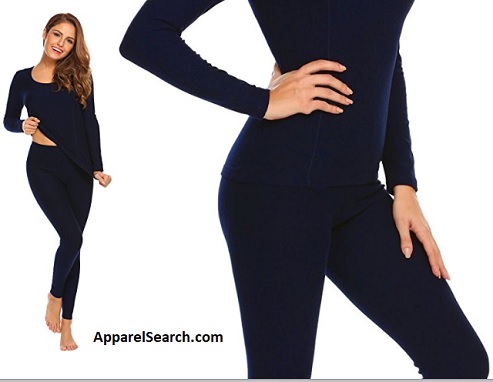 Blow across the back of your hand, then lick it, and blow again. Does the wet feels much cooler? It should. It's because as the water evaporates, it draws energy (in the form of heat) away from your skin. Thermals 'wick' (or draw) sweat away from the skin, minimizing evaporative cooling. Learn more about how fabric wicks moister. Some thermal fabric is blended with synthetic fiber which can help improve the wicking.
You may also want to read the fashion blog post regarding the benefits of cotton.
Apparel Search is a leading guide to fashion, style, clothing, glam and all things relevant to apparel. We hope that you find this women's cotton thermal underwear page to be helpful.
What ever you are wearing, is in fashion.
If you want to be even more stylish, you should wear your Women's Cotton Thermal Underwear.
Do you want comfy undies?
You may find the following sections of our site to be of some interest.

Thank you for using the Apparel Search website.