Welcome to the worlds greatest guide to Women's Denim Fashion.
fabric, color, silhouette and embellishments are all important factors when thinking about fashion and trends. Although consumer modes change, certain fabrics have been a mainstay for generations. Denim is one such fabric that has been an important aspect of women's fashion for a very long time. Most women have at least one pair of denim jeans in their closet. Denim jeans are only one of the many clothing style options produced with denim.
Denim fabric is a sturdy cotton warp-faced textile in which the weft passes under two or more warp threads. The fabric is appropriate for pants, shirts, skirts, dresses, overalls, jackets, shorts, etc.
Although blue often comes to mind when we think of denim, this fabric can produced in a wide variety of colors. Denim fabric dyeing is divided into two categories: indigo dyeing and sulfur dyeing. Indigo dyeing produces the traditional blue color or shades similar to it. Sulfur dyeing produces specialty black colors and other colors, such as red, pink, purple, grey, rust, mustard, and green. Denim was originally dyed with a dye produced from the plant Indigofera tinctoria, but most denim today is dyed with synthetic indigo dye.
The fit of denim fashion varies from tight to loose. If you ever wondered how women slip into tight fitting jeans, it is possible that the denim has some added stretch. Stretch denim incorporates an elastic component, such as spandex. This creates a certain amount of "give" in garments made from stretch denim.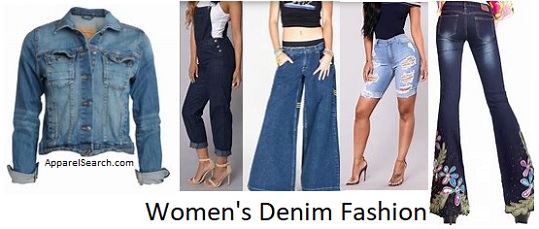 Below are a few of the many fashion options available to women in denim.
Fashion is a popular style, especially in clothing & footwear. Denim fabric can play a role in nearly all aspects of fashion. This textile can be used for an entire garment or can be utilized for trimming or embellishment to a garment that is made primarily from other materials.

Thank you for using the Apparel Search website.