Apparel Search is a leading guide to fashion, style, clothing, glam and all things relevant to apparel. We hope that you find this Women's Microfiber Hipster page to be helpful.
Low-rise is a style of clothing designed to sit low on, or below, the hips. The style can also be called lowcut, hipster, or hip-hugger. The term can be applied to all garments that cover the wearer's crotch area, including trousers, jeans, shorts, skirts, panties, briefs, bikinis, pantyhose, and tights. Women's microfiber hipsters are hipsters made of microfiber fabrics.
What is microfiber? Microfiber (or microfibre) is synthetic fiber finer than one denier or decitex/thread, having a diameter of less than ten micrometres. This is smaller than the diameter of a strand of silk (which is approximately one denier), which is itself about 1/5 the diameter of a human hair.
Learn more about denier and other fiber & fabric units of measure.
Microfiber fabric is frequently used for athletic wear, such as cycling jerseys, because the microfiber material wicks moisture (perspiration) away from the body, keeping the wearer cool and dry. Microfiber is also very elastic, making it suitable for undergarments. Microfiber can be used to make tough, very soft-to-the-touch materials for general clothing use, often used in skirts and jackets. Microfiber fabric can also be used for making bathrobes, jackets, swim trunks, and other clothing that can be worn for aquatic activities such as swimming. Microfiber is used to make many accessories that traditionally have been made from leather: wallets, handbags, backpacks, book covers, shoes, cell phone cases, and coin purses.
Microfiber hipsters can be made with lace embellishments.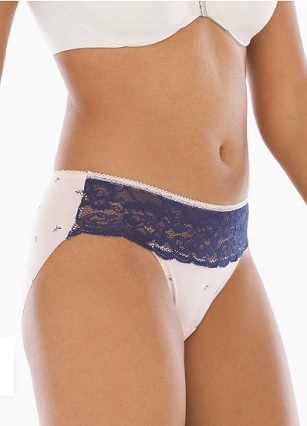 What ever fabric is used to make your hipsters, is fine with us. If you want to be even more stylish, you should wear your favorite microfiber women's hipster today.
Microfiber can be made into Ultrasuede, an animal-free imitation suede leather-like product that is cheaper and easier to clean and sew than natural suede leather.

Learn more about microfibers.