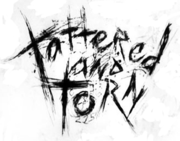 Tattered and Torn
is a clothing line founded by American metal band Slipknot, in 2008. The name is taken from a song by the band which appears on their debut album Slipknot.
History
The clothing line was launched by the band Slipknot in 2008 and runs as an imprint of Bravado, a company that runs the band's merchandising.[1] While the band recognize that their merchandise is their biggest revenue income, they insist Tattered and Torn is more than just band merchandising. Vocalist Corey Taylor said, "It's a way for [the fans] to get cool clothing at affordable prices."[1] The first items from the clothing line went on sale in late July 2008 through Hot Topic stores across North America and the Hot Topic website.[2] Currently the line is limited to shirts and hoodies but is expected to develop in to a full-range clothing line.[1]
Name
Tattered and Torn is named after a song written by the band. The song appears on their debut albumSlipknot which was released in 1999, as well as their demo-album Mate. Feed. Kill. Repeat. which was released in 1996.[1]
References