Vans is a leading action sports lifestyle company. While some companies just jumped on the skate bandwagon, they are the original skate shoe manufacturer since 1966. They stay connected to those who love Vans through action sports including skate, snowboarding, surfing, moto and BMX and through major events like the Vans Warped Tour and the Vans Triple Crown of Surfing.
Vans: An off-the-wall original since 1966, the VansŪ brand creates footwear, apparel and accessories for skate, surf and snowboarders the world over.
Vans is part of VF. VF Corp is a multi-billion dollar apparel powerhouse, with an incredibly diverse, international portfolio of fashion brands and products that reach consumers wherever they choose to shop.
Learn more about VF Corp.
Learn more about Vans from some of the past articles. This is just a brief sampling.
New Authentic Colors for Vans 2012
Fashion & Footwear Shopping Article January 2012
Valentines Vans 2010
Shopping Article 2010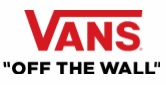 Vans Thanksgiving 2009 Promotions
Fashion Shopping Article Posted November 21, 2009
Vans Halloween 2009 Shoes on Sale
Fashion Shopping Article Posted October 24, 2009
Free Shipping For Back To School 2009 at Vans
Fashion Shopping Article Posted August 18, 2009
Vans Footwear Collection Summer 2009
Fashion Shopping Article Posted July 21, 2009
Custom Shoes: Vans Shoe Envy
Fashion Article Posted May 8, 2009
Vans Thanksgiving Day Coupon
Fashion Shopping Article Posted November 21, 2008
Vans Halloween Coupon October 2008
You may also find more news about Vans in the VF news section.