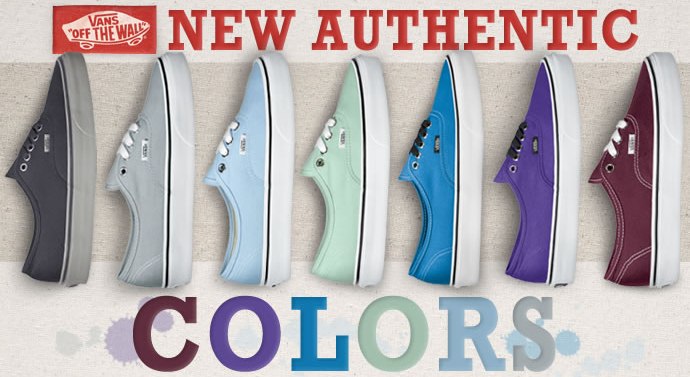 Vans has several new and trendy shoe colors for 2012.

Vans' storied history, and their connection with skate and surf culture, began in 1966 Southern California with the rolling out of a single pair of shoes. They were named Authentic. In the generations since, they have only gotten more popular amongst hardcore skaters and skate enthusiasts. Their design is simple, stylish, and effective: a low top lace-up profile made with sturdy canvas uppers, and signature waffle rubber soles.
Canvas uppers.
Metal eyelets.
Vulcanized waffle rubber outsoles.
Solid colorways.
Unisex sizing.
Imported.
You can learn more about Vans at Vans.com or here on Apparel Search in the Vans company profile section.
Learn more about Vans from some of the past articles. This is just a brief sampling.
Valentine Vans 2010
February 2, 2010
Vans Thanksgiving 2009 Promotions
Fashion Shopping Article Posted November 21, 2009
Vans Halloween 2009 Shoes on Sale
Fashion Shopping Article Posted October 24, 2009
Free Shipping For Back To School 2009 at Vans
Fashion Shopping Article Posted August 18, 2009
Vans Footwear Collection Summer 2009
Fashion Shopping Article Posted July 21, 2009
Custom Shoes : Vans Shoe Envy
Fashion Article Posted May 8, 2009
Vans Thanksgiving Day Coupon
Fashion Shopping Article Posted November 21, 2008