Apparel manufacturers, retailers and brand owners seeking environmentally sustainable trim products, faster heat transfer production and advanced RFID technology will discover complete solutions at Avery Dennison Retail Information Services Booth 1410, Material World, Miami Beach Convention Center,
May 8 -10
, 2007
Avery Dennison RIS featured products and services include a full line of environmentally friendly tags and labels, new industrial grade roll-fed heat transfer bonders, and ROI-centered, RFID integrated solutions. The company will also display woven and printed labels, colorful heat transfers, graphic tags, patches, integrated tags, price tickets, custom hard and soft goods packaging, electronic article surveillance tags (EAS), barcode printers, software solutions, molded plastic fastening and application devices, and the Ticket Express service bureau offering.
Environmentally Sustainable Tags & Labels
Avery Dennison RIS range of sustainable trim products supports apparel makers and brand owners who conduct their businesses in ways that help conserve resources and preserve our environment's well being. The eco-friendly products can also equip users with a marketing advantage. 'some of our largest customers are using green as a way to differentiate their brand from their competitors, says Alexandra Brownfield, marketing director, Exterior Identification and Data Solutions. RIS is responding to this trend with the widest range of eco-friendly trim options in the market, and they are available on a worldwide basis.

Products include environmentally certified papers, organic cotton and recycled polyester printed fabric labels, organic cotton and bamboo woven labels, and biodegradable packaging materials.
As part of its exhibit, Avery Dennison RIS will have available its new Environmental Paper Stock-selection Book. The handsome, fanned-deck portfolio consists of 45 coated and uncoated eco-friendly stock samples in different textures and finishes from paper manufacturers worldwide, including India. The samples indicate whether the stocks are Recycled, Green Seal Certified, Chlorine-free Certified and/or Green-e Certified. The book is available free to qualified businesses by contacting Carole.Frye@averydennison.com, PH: 818-735-6345.
Roll-fed Heat Transfer Bonding
Visitors to Avery Dennison RIS booth can observe demonstrations of roll-fed heat transfer bonders that deliver precision placement to within +/- 1mm and improve productivity by 50%. The roll-fed bonders support speed-to-market initiatives. Company officials say the high-speed bonders are finding increasing use among apparel manufacturing contractors with high volume requirements.
Heat transfers are tagless labels that can carry a combination of product identification, brand identification and care instructions. Supplied in roll-form or as singles, heat transfers are available in all process and PANTONE colors. ComfortTag heat transfers, the tagless label offering from Avery Dennison RIS, have been proven to retain their color and print integrity through 50 washings, per the American Association of Textile Chemists & Colorists (AATCC) test Method 61 procedure.
Avery Dennison RIS roll-fed bonders can accurately apply over 600 ComfortTag heat transfer labels per hour to T-shirts, underwear, bras, athleticwear, tops, bottoms, socks and more in a range of fabrics that includes cotton, polyester, nylon and silk, and to footwear components, such as athletic shoe innersoles.
Avery Dennison RIS backs the heat transfer bonders with dedicated global support service teams. Heat transfer production facilities and service centers are strategically located worldwide. The company recently opened a 5,920 sq. ft. heat transfer facility in Istanbul, Turkey. The plant is dedicated to the production of made-to-order high quality ComfortTag heat transfers and to their rapid delivery to apparel and footwear manufacturers throughout EMEA (Europe, Middle East and Africa).
RFID Integrated Solutions
Avery Dennison RIS
RFID integrated solutions range from a preliminary analytical review of a customer's RFID labeling needs to a complete business case analysis and project implementation program. Solution components can include consulting services, case and item-level technologies, tags, labels, label printers and applicators, software, EAS loss prevention, anti-counterfeit and anti-diversion products, and supply chain efficiency processes.
With its full range of solutions, Avery Dennison RIS is a one-stop-shop for virtually any RFID requirement an apparel manufacturer or retailer might have.
About Avery Dennison Retail Information Services
Apparel manufacturers, retailers and brand owners who embrace speed, quality, responsiveness and global consistency as essential business values turn to Avery Dennison Retail Information Services (RIS) for a variety of information and brand management solutions. Products include: fashion-inspired woven and printed fabric labels, heat transfers, artfully designed hang tags, pocket flashers, leather and leather-like patches, as well as pricing labels, integrated bar-code tickets, carton labels, molded plastic fasteners, application devices, printers, label applicators and print and apply systems. In addition, intelligent labeling solutions such as anti-counterfeit, anti-diversion, anti-theft and RFID are offered across its core product ranges. Services include supply chain management, ticket design and consulting. Its Innovations and Solutions Group equips Avery Dennison RIS with the research and engineering capability to rapidly respond to apparel and retail customer needs for ticketing, software, data management, printing, heat transfer bonding, and materials solutions. Avery Dennison RIS global presence includes manufacturing centers, ticketing centers, service bureaus and sales offices in over 35 countries. The organization is a division of the Fortune 500 Avery Dennison Corporation, the global leader in pressure-sensitive labeling materials, office products and retail tag, ticketing and branding systems. The Corporation had sales of $5.6 billion in 2006; it employs 22,000 employees worldwide.

At Material World May 2007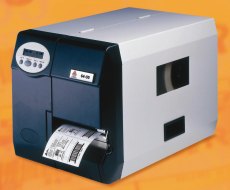 Complete Solutions for Three Vital Business Challenges Highlight Avery Dennison Retail Information Services
Exhibit.
Innovative products and expert services address sustainability, heat transfer production and RFID.