<![if !vml]>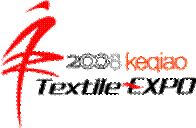 <![endif]>
Event Name: 2008China.KeQiao International Textile, fabric&Accessories Exhibition (Autumn)
Event Date: Oct.25, 2008-oct.28, 2008-6-27
Event Location: KeQiao Trade Center, ShaoXing, Zhejiang, Shanghai, China
Details:
Event Profile: China .KeQiao International Textile, fabric&Accessories Exhibition 2008(Autumn) is one of the most important shows sponsored by Country People's Government of China, it relies on China Textile City, located in Shaoxing, Zhejiang .Market-oriented Operation Guided by Government, Create a First-class Professional fabric Exhibition.
Exhibitors Profile :Product groups include fabrics such as cotton, wool, silk, linen, and ramie, man-made, knitted, coated, Lingerie & swimwear fabrics, Functional fabrics, Printed fabrics, fibers & yarns, Embroidery & lace Accessories etc. The scope of Exhibits refers to fabrics, Accessories, Spinning&Weave and Textile Machinery. And there are over 8,000textile manufacturing companies in Shaoxing County for your inspection which can fully meet you demand.
Visitors Profile: Trade Visitors - Garment manufacturers, import & export corporations, wholesalers, retailers & General Public. Oversea purchasers from Europe and America, Asia-pacific, Middle East and other countries and regions, wholesaler from textile related key markets in China and other buyers will be invited to attend the EXPO.
Website: www.gehuaexpo.com
Email: ghtextileshow@yahoo.com
Phone: 0086-021-54451965
Fax: 0086-021-54451968
Contact person: Annie Zhang