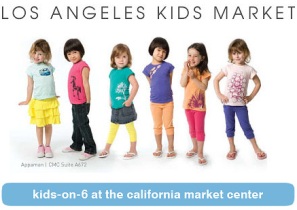 From August 7
11, 2009 the California Market Center (CMC) will host the Holiday/resort 2009 Los Angeles Fashion Market. This LA Fashion Market, the CMC will launch LA Kids Market on Kids on 6, a new 'show within a show. Featured along with the hundreds of CMC showrooms and the three other LA Fashion Market tradeshows, FOCUS | Apparel and Accessories Show, TRANSIT | LA Shoe Show and Brighte by ENK, LA Kids Market on Kids on 6 will highlight the expansive Kids and Maternity merchandise available at the California Market Center. The LA Fashion Market will also feature hospitality, perks, amenities and a seminar presented by Focal Technology Solutions for buyers to take part.
LA Kids Market on Kids on 6 will take place from August 7 -11, 2009 in the Kids and Maternity floors on 6A and 6B of the California Market Center. The new LA Kids Market will feature increased amenities and services to help buyers navigate over 600 Kids and Maternity apparel, accessories and lifestyle resources. The launch of the LA Kids Market will bring increased awareness to Kids on 6, and the amount of kids and maternity resources at the CMC, says Joanne Lee, SVP of the California Market Center. Buyers have a one-stop-shop opportunity for the best kids and maternity products available that they can't find anywhere else but Kids on 6 at the CMC.
The upcoming Fashion Market will feature hundreds of brands in the CMC's permanent showrooms as well as hundreds of temporary exhibitors throughout the featured tradeshows. Starting this Market, the FOCUS | Apparel & Accessories Show will begin on Friday, the first day of the Market, taking place, August 7-9, 2009 in the Penthouse on the 13th Floor, A-wing. When FOCUS initially began we started the show on the second day of Market to capture the traffic of our already established TRANSIT | LA Shoe Show, said Chelsea Matthews, Sr. Tradeshow Manager, in the past year, the show has grown enough that it draws its own traffic. Buyers are asking about FOCUS as soon as they arrive at the CMC, so a Friday start makes sense now.
TRANSIT | LA Shoe Show will take place, August 9-10, 2009 in the Penthouse on the 13th Floor, B-wing and Brighte by ENK will take place August 7-10, 2009 in the Fashion Theater.
The California Market Center will host another part to the CMC Retailer Seminar Series during the upcoming Holiday/resort 2009 Fashion Market . On Friday, August 7, 2009 from 12:30pm - 1:30pm. Shahin Kohan the CEO and Founder of Focal Technology Solutions will present and moderate a panel discussing, Creating an Effective E-commerce Website for Increased Sales and Profitably! The seminar will take place in The Annex off the CMC Main Lobby (next to registration).
Retailers are invited to the Buyers Lounge (Suite B-271) from 8:30am -10:30am for complimentary breakfast and coffee.

Learn more about Children's Fashion.
Los Angeles Fashion Market Retailers Welcome Fall / Holiday 2009 : California Market Center
Fashion Event Article Posted June 5, 2009
Los Angeles International Textile Show at California Market Center Presents West Coast Premiere Resource and Trends
Fashion Event Article Posted April 10, 2009