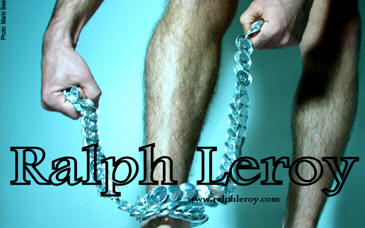 "
Be hot for the fall!"
Come and discover
Ralph Leroy
's newest, exclusive collection @Fashion Madness on
August 9th, 2009
at 5455 De Gaspe suite 900.
Fashion Madness is a unique chance to purchase exclusive pieces. Fashion Madness features an amazing sale of Ralph Leroy's fall men's line collections and his jewelry showcase called Kofi Collection. 10% of the proceeds will go to Montreal Lion Club Communautaide.
More about Ralph Leroy
Multidisciplinary designer with an impressive resume, Ralph Leroy presents his menswear collection. The RALPH LEROY collection is a harmonious mixture of contemporary and urban style, accented with English inspiration as evident in the lines, cuts, and masculine look.
His diverse talents and expertise include his magnificent jewelry and accessory lines KOFI COLLECTION is a jewerly line that offers exclusive and unique pieces. Ralph Leroy is a name that rhymes with elegance and chic. Edgy, Catchy, Fierce symbolize the new fall collection.
Once again, Ralph Leroy shows his support to a cause dear to his heart: The Lions Club Montreal Communautaide is part of Lions Club International, devoted to helping those in need all over the world.
Ralph Leroy will be looking forward to seeing you at this exclusive event in Montreal @ 5455 De Gaspe suite 900.on August 9th and in New York City in September. Don't miss this opportunity to be trendy!