The Montreal Fashion and Design Festival (MFDF) is a free outdoor happening, which every summer attracts more than 550,000 visitors to McGill College Avenue at the heart of downtown Montreal. And for its 12th edition, from August 1st to 4th
2012
,
the Festival will be serving up its most diverse program ever. On the menu for these four full days: the leading international fashion labels, renowned Canadian designers, exciting musical performances, design in real time, and many special events, not to mention an absolutely unique ambience! It is with great joy that Geneviève Borne returns as the spokesperson for this year's edition of the Montreal Fashion and Design Festival.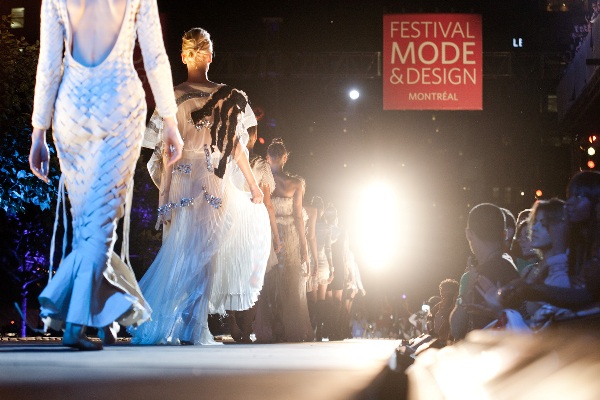 The 12th edition of the Montreal Fashion and Design Festival is more than 50 shows presented under sun and stars. Designed to appeal to all the senses, it satisfies every taste. Overall, it features more than 60 designers, 100-plus fashion labels from here at home and beyond, some 20 designers of various items, graphics and architecture and a dazzling array of artists who will be flaunting their creativity in the areas of fashion, design, and music.
A cluster of fashion shows will also be taking the runways by storm during the festival's four days, unfolding to the rhythm of various DJs and the coolest musical groups around! The only free outdoor event bringing us fashions from elsewhere, the MFDF will make it possible for festivalgoers to see, during this critical August fashion period, the latest evolutions of their favourite international labels. As a fashion capital and UNESCO City of Design, Montreal makes it a point to mesmerize the crowds with splendour and glamour, summer after dazzling summer!
For more information:
Tél. : (514) 876-1499
Email : info@sensationmode.com
Website : www.festivalmodedesign.com

If you have enjoyed this news article, you are welcome to further discuss this event or any other fashion news at the Fashion Industry Network. You can go to the Groups section on that site, and then you will find the fashion events group. That is a perfect place for discussing your favorite industry happenings.

If you wish to visit other sites that provide news about fashion events, you are welcome to try the Fashion Newspaper, Fashion News Articles, or Fashion Articles websites

Due to the fact that you are reading this article, we assume that you enjoy fashion events as much as we do. If that is correct, you will simply love "fashion week" events. Here are a few links to help you learn more:
Read previous fashion event news articles from our news archive: Fashion Event Articles 2011
If you would like to review additional categories other then event news, you can research previous fashion news reports from these links: 2011 Fashion Articles, 2010 Fashion Articles and 2009 Fashion Industry Articles.

Here are a few fashion calendars that you may find helpful if you are would like to attend an event:
If you work for a fashion designer, popular fashion brand, or fashion event organizer, you are welcome to list your events on the calendar.
You may want to read fashion blogs to learn more about fashion events. Fashion bloggers typically do a good job with reporting on fashion events. If you happen to fancy yourself a Fashion Writers, you are welcome to test out the fashion blog at FIN.