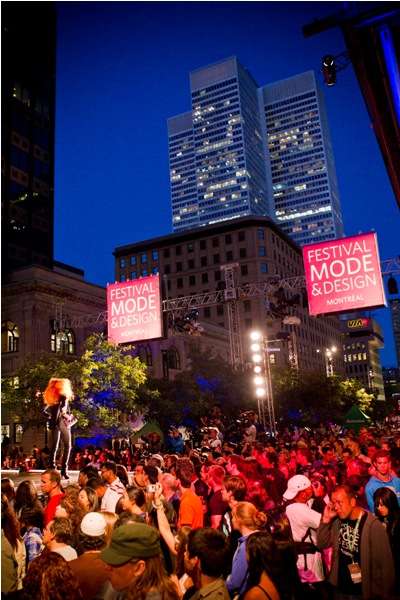 Spring is here and style lovers everywhere are feeling restless as the countdown begins to the Montréal Fashion & Design Festival – the biggest Festival of its kind in North America, dominating McGill College Ave from August 3 to 6, 2011. The high-profile, open-air event launches its 11th season with a larger-than-life celebration of all things creative and inspiring: design, beauty, shopping, music, and of course – fashion! The second decade of the most fashionable street bash on the continent brings with it a blast of new and exciting updates:
Opera and Fashion: This is opera like you've never heard...or seen! Fashion and opera into one spectacular event, featuring costumes from l'Opéra de Montréal that are deconstructed, reworked and transformed, all moving to the rhythm of Fashion Music beats - mixed, of course, with opera!
International Showcase: A growing list of the world's best-known international brands are using the power of the MFDF to launch their new collections to the public, taking advantage of the Festival's positioning as the "New Year's Eve" of the fashion calendar. Be there as the hottest labels introduce their latest looks, live, in a one-of-a-kind presentation: StyleXchange, American Eagle Outfitters, EMPIRE, GUESS, GUESS by Marciano, Costa Blanca, Urban Behavior, Le Château, Limité, la Baie (Espace Blanc), InWear, Matinique, Suzy Shier, Reitmans, Terra Nostra, « Défilé de la diversité corporelle », Complexe les Ailes, Centre Eaton, Place Montréal Trust, Place Ville Marie and many more!
Design Theatre:
The MFDF launches a new concept in celebration of Montreal's 5-year anniversary of its Unesco "City of Design" designation. The Design Theatre features an array of participative and interactive stations as well as others displaying original design installations. In the middle of downtown, on McGill street between St-catherine and Cathcart streets, visitors can explore a series of storage containers with the interiors designed by some of the most celebrated stylists in town.
Let's Get Social:
The MFDF ramps up its social media activity this year with even more presence on Twitter and Facebook, plus livestream videos of fashion shows, exclusive interviews, behind-the-scenes footage and more, direct from the runways!
Learn more about international fashion week events.
You are welcome to further discuss these fashion events at the Fashion Industry Network.
Learn about Fashion Weeks.
You may want to read fashion blogs to learn more about fashion events. Fashion bloggers typically do a good job with reporting on fashion events.