Some of them are old and probably no longer indulge your eye. Others might have an unpleasant sentimental value. Whatever the reason - you decided to get rid of them. Luckily they didn't land in a bin, but made it to a charity shop, where Jolita Jewellery revived them.
Jolita Jewellery designer Algis Abromaitis collaborated with Oxfam boutique to produce a collection of limited edition pieces.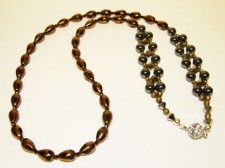 Donated jewelry was taken apart to design new fabulous creations. Broken chain cuff links, brooches, odd earrings and damaged necklaces: all were used to produce novel pieces.

Old unwanted bracelets were revamped to become quirky wrist adornments. No longer fashionable necklaces had a makeover and became eye-catching pieces.

First collection flew off the shelves and another one has been handcrafted for your enjoyment. Visit Oxfam boutique, on 432 Kings Road, London, SW10 0LJ and choose one of re-designed jewels. But hurry up, only a limited number of pieces have been made.