THRIFT- FOR THE GOOD FIND has finally launched their highly anticipated Spring 2009 Fashion meets Art Line. Each garment of the 16 piece line is a one of a kind good find. This line was designed to bring fashion back to its well rooted street culture. It is true what they say couture often starts in the streets and the two designers of Thrift, Victoria and Jennifer, have definitely found inspiration in nature and the urban culture around them.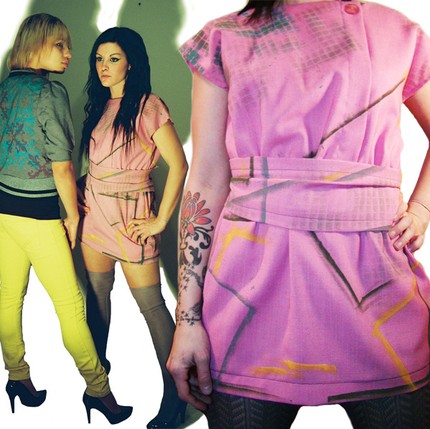 The Spring 2009 Fashion meets Art Line is hand reconstructed, hand painted vintage garments. Each garment was designed by the two Chicago designers with the idea of what women like themselves are in search for: the desire to wear fashionable clothes and not break the bank.
The two women see the newly launched fashion line as a revolution. These women are here to leave their memory behind through hard work and innovation. Victoria and Jennifer both make it a point to state:
We are here to change the scene. We are not just a fashion line, but a fashion lifestyle. We have created our own line and in the process we are doing our own fashion shows. We want to showcase, not just our hard work, but the hard work of other aspiring designers. We see a need in the industry to help other new designers and small businesses out.
If you would like to purchase your own one of a kind, good find go to: www.thegoodfind.etsy.com You can also keep up to date on what these innovators are doing at: www.thriftthegood.blogspot.com! Be a part of the change!
THRIFT- FOR THE GOOD FIND, a fashion line and online retailer of vintage hand reconstructed garments, is excited to bring the art back into fashion! Please visit: www.myspace.com/thegoodfind OR www.thriftthegoodfind.blogspot.com for more information.