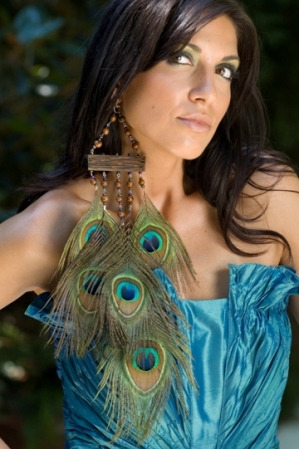 Jarbas Pereira's 2009 Fashion Jewelry Collection will make its debut at the 33rd Annual Arts in the Park Festival, May 23rd and 24th in Blue Ridge, GA.
Jarbas Pereira's Fashion Jewelry Collection highlights the use of feathers as the must-have fashion accessory for the upcoming season, incorporating dramatic new shapes and earth tone colors, ranging from ginger and natural brown to chinchilla and grizzly.
This season, Designer Jarbas Pereira used his passion for creating with feathers to produce a line of earrings and necklaces accentuated with punches of color and plenty of drama. Highlighting the collection is the "Anchor earring", a weightless 25-inch long earring, crafted in saddle hackle feathers, natural seeds, coconut shell, and ostrich feathers. Other designs feature lush rabbit skin in natural brown, utilizing ostrich feathers to dangle playfully from the ear.
Also, the collection will also feature the traditional peacock feather earring that is sure to make a sharp statement this summer.
Bringing my fashion jewelry to Blue Ridge has been such an exciting experience for me," explains Pereira.
Blue Ridge, well known for the bluish hue of its mountains, is Designer Jarbas Pereira's newest home away from home and serves as both a backdrop and an inspiration for his latest collection.