It's that time of the year again. When we humans are permitted to give into our subconscious
want to be
desires and can dress up as, and pretend to be whoever or whatever we
d like. So what will the most popular Halloween costumes be this October? Here's what we at Apparel Search think some of the top picks might be.
1. Michael Jackson With his recent death, fans are finding new ways to pay tribute to the King of Pop. Expect to see plenty of Michael's moonwalking the streets this October. The loss of another pop icon, Farrah Fawcett, will also inspire a resurgence in Charlie's Angels costumes.
2. Edward Cullen and Bella Swan The Twilight saga is so hot right now, there are sure to be plenty of charming vampires and
dying
to be vamps looking to suck your blood.
3. Barack Obama Sales of our presidents masks are tremendous and with all the antics in Washington these days, there seems to be renewed interest in political costumes.
4. Hannah Montana / Miley Cyrus The Disney Pop Princess is still going strong with the continued popularity of her 3rd season of Hannah Montana and Miley Cyrus is quickly eclipsing her fictional self as she moves further into the spotlight
5. Harry Potter and Hermione Granger The characters from the Harry Potter films that have been popular for years will continue to be with some additional figures like Voldemort, Dementor and the new characters like Half Blood Prince Slytherin, Professor Horace Slughorn and the Quidditch Players.
6. Star Trek Costumes Star Trek is back with its newest movie out this past year and the characters are easy to recreate with a few simple Star Fleet uniforms.
7. G.I. Joe Ninja Yet another current movie related costume. There are sure to be a lot of ninjas out doing their finest daylight impressions of Storm Shadow.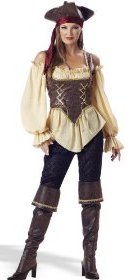 There you have it, the official Apparel Search top Halloween costume picks for 2009. Remember to check back with us next year to see what will be hot in 2010.
Written by BML92009
You may also want to read about Where to Buy Halloween Costumes 2009.
By the way, you can shop for Halloween costumes at Amazon. They actually have a rather fantastic selection (Halloween Costumes).

One place to buy wholesale Halloween items online today is at dollardays.com! A great variety of spooky wholesale Halloween decorations, low bulk prices, just in time for the scary season. Wholesale Halloween Costumes such as ornaments, cards and decorations buy the case or bulk buying, everything at cheap closeout prices.