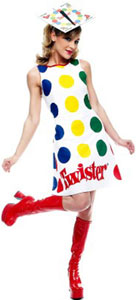 Remember the good old days when you made your Halloween costumes with some simple items that you found around the house. Well, those days seem to be long gone. Halloween has grown into one of the highest grossing of holidays in the United States. We really seem to love dressing up and pretending to be something or someone else. So where do you get your costumes? There seem to be thousands of websites dedicated to Halloween and costumes these days. No one could possibly be at a shortage of ideas for a costume if they surf the web. One of my favorite, unique costumes that I came across while surfing is this TWISTER Game. anniescostumes.com/ladies.htm
There are plus size and maternity costumes, group costume ideas, sexy and downright vulgar costumes, and some of the funniest ones can be found at BuyCostumes.com.
There are also tons of retail stores dedicated to the holiday of Halloween that pop up just in time for the season. And of course you have the everyday party stores that carry a decent selection of costumes. Such as Wherever you choose to find your costume this year, have fun with it and don't eat too much candy.
Here are a few Halloween costume stores that you may find of interest for 2009.
Spirit Halloween : Get your cauldrons ready, because its time to brew up some trouble! Halloween is more than just trick or treat. It's an occasion to put your creativity and playfulness to use! Spirit Halloween has some great Halloween costume and seasonal ideas to get you started on a variety of hot Halloween costume topics.
Halloween Adventure : For over 20 years Halloween Adventure Costume Super Stores has successfully brought the Magic, Fun, and Excitement of Halloween to millions of customers, both young and old - from Coast to Coast! Founded in 1981 by Bruce, Darron, and Maureen Goldman, Halloween Adventure today has grown to become one of the Nation's largest, most respected, and most successful Costume and Masquerade retailers. With a reputation for imaginative store presentations, a focus on quality products, innovative approaches to real estate acquisition, inventive marketing strategies and tactics, and an unwavering dedication to treating its customers and employees alike with the ultimate in respect, the company's growth continues as it expands into new markets.
Costume Super Center : Costumes are not just for Halloween anymore (although they are certainly perfect for Halloween). Who didn't like playing dress up as a kid? Theme parties give everyone a perfect excuse to dress up. Today, there are costumes for everyone-adults, children and pets. Costumes allow you to step into a completely different persona: super heroes, super villains, medieval, sexy, and so much more. There are literally thousands of costumes to choose from. You are only limited by your own imagination.
Halloween Express : Whether you need a Halloween costume for a party, a costume for a special event, costume accessories, Halloween decorations, haunted house props or special effects, chances are you will find it at Halloween Express! When it comes to Halloween Costumes, you name it, they have it! They carry the absolute largest selection of Halloween costumes and costume accessories available anywhere for just about any occasion! They have adult Halloween costumes, kids costumes, boys costumes, girls costumes, plus size costumes, sexy costumes, pirate costumes, group costumes, couples costumes, holiday costumes, funny halloween costumes, renaissance costumes, super hero costumes, costume hats, costume wigs, masks, costume makeup kits, Halloween decorations, medieval costumes, haunted house props, religious costumes and even pet costumes.
Party City : they pride themselves on making it easy and fun for you to celebrate the special times in the lives of your family and friends by offering a complete selection of fresh and exciting merchandise at great value in a fun shopping environment. Party City is the leader in the party goods industry. They are America's largest specialty party goods chain and the country's premiere Halloween specialty retailer. Party City operates more than 600 company-owned and franchise stores throughout the United States and Puerto Rico.
Costumes4Less : Costumes4Less.com� is a leading online retailer of Halloween Costumes & Accessories, Drama and Theme Party Costumes, Lingerie & Sexy Wear, Shoes and Party & Wedding Supplies. They are a division of Anilta Corporation, based in California, USA. Their mission is to offer you the most pleasant online shopping experience by providing the widest selection of products, at best possible prices via their easy-to-use, full featured and secure web site.
By the way, in addition to the Halloween costume stores listed above, you can also shop for Halloween costumes at Amazon. They actually have a rather fantastic selection (Halloween Costumes at Amazon).
Learn more about Halloween costumes for children, women, and men.
Written by BML 92009