From short tunics and T-back rompers to v-neck ruffle dresses and short halter dresses, Luli Fama offers multi-wear garments boasting vibrant hues, bold patterns and sexy yet playful silhouettes. Each garment features adjustable drawstrings - - ideal for beach-to-street style!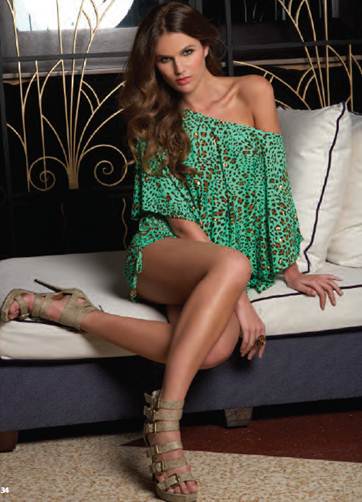 2012's top trends are found throughout the collection: floral, paisley, animal print and kaleidoscopic!
Celebrity fans include Beyonce, Kate Hudson, Ashley Tisdale, Kourtney Kardashian, Leanne Rimes, Cindy Crawford and Shakira. Price points range from $80 to $200; sizes range from extra small to extra large, garments can be purchased online at www.lulifama.com or select boutiques across the nation.
Luli Fama is known for its universally flattering fit and immaculate designs. Luli Fama incorporates an eclectic mix of vibrant hues and bold prints resulting in a unique look that is at once sophisticated and festive. Artfully placed embellishments, such as faceted glass beads and gold hardware in the form of seashells and starfish create a perfect balance on streamlined silhouettes.

The assortment of exclusive pieces, including monokinis, bikinis, cover-ups and dresses, are made from light fabrics and enhanced exceptional details tailored to accentuate a woman's figure. Every collection reflects a new thought process and design concept. Luli and Augusto are inspired by a variety of factors, including Luli's Cuban descent and Miami upbringing. The cosmopolitan culture and Latin influence in Luli Fama are apparent in the contemporary shapes, intense colors and fusion of innocence and seductiveness.

Inspired by the engaging rhythms of the Caribbean and the electric nightlife of South Beach, each collection fuses vivid color palettes and prints. Additional influences include the blues and greens of the ocean, the glimmering gold of the night stars and an exotic locale's lush surroundings. Eye-catching prints range from floral, aquatic, paisley and tribal to Italian mosaic tile and tie.

Originality is a fundamental component, as Luli Fama understands the importance of a target customer and abides by her personal philosophy, "You can't be everything to everybody. You have to have a niche and stay true to your consumer by providing a look in the highest quality possible."
View more of the Luli Fama Cover-up Collection 2012.
Visit the Luli Fama website for more information.
You may also find the following links to be of assistance:

Fashion Jobs
You may also have interest in the fashion shopping articles ...
If you are tired of simply reading about fashion, you may want to take a break and do a little shopping. If that is the case, you are welcome to visit our shopping section from the links below:
Shopping For Children's Clothing

Here are a few more apparel news resources that you may enjoy.
Have you ever dreamed of becoming a fashion designer?