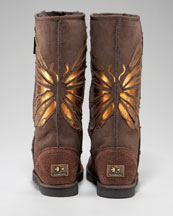 It is most certainly time to select cold weather boots (if you live in a region of the world that gets cold). Personally, I like the exclusive foil-print butterfly boot. Choose chocolate or black sheepskin with bronze/silver foil butterfly print. Lugged EVA platform sole. Made in Australia. This one is Neiman Marcus style # NMF10_x0DR0
Shop at Neiman Marcus for luxury fashion brands and fashion accessories.
◊ Learn more about luxury fashion brands.