Learn more about
Apparel here on Apparel Search.

Wings Hawaii is bringing whimsical and stylish beach-inspired jewelry to fashionistas everywhere.
Each exotic and hand-crafted piece of jewelry is inspired by our gorgeous surroundings in Maui, HI and the semi-precious stones and shells are collected straight from the beaches of Hawaii. Whether enjoying a day in the sun or a night out on the town, Wings Hawaii's delicate jewelry completes any outfit.
View a line sheet with a selection of some of their featured jewelry items.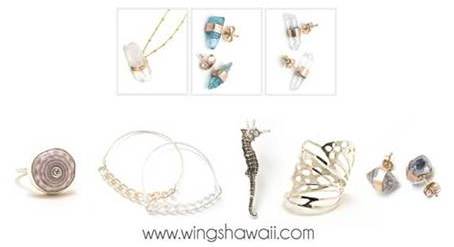 To view their full clothing and jewelry lines, visit www.wingshawaii.com.

◊ Shopping For Women's Clothing
◊ Shopping For Children's Clothing


By the way, you can find fashion boutiques on Apparel Search, if you were interested. You can find them in the fashion boutiques section.
You may also want to visit the fashion boutiques guide to find and research boutiques by state.
Don't forget to check the fashion boutique directory as well.

2012 Fashion Shopping News Articles
2011 Fashion Shopping Articles
2008 Fashion Shopping Articles

Fashion News Article Archive 2011

Clothing Stores
Jewelry News
Designer Fashion Boutiques
Check out our new clothing guides.
You may also like to view the fashion designers guide.
Learn more about women's fashion, men's fashion and children's fashion.