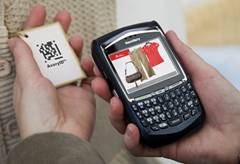 Avery Dennison Corporation and Scanbuy, Inc. have joined forces to produce a new mobile-merchandising solution that uses camera phone technology to enhance consumers in-store shopping experience and boost retailer profitability
The solution, which will be marketed by Avery Dennison through its worldwide network of service bureaus, ticketing centers and sales offices, connects the company's line of retail labels with Scanbuy's ScanLife Client application and ScanLife Code Management Platform to allow retailers to communicate with consumers while they shop.

"By combining technologies, Avery Dennison and Scanbuy will provide consumers with a completely interactive shopping experience that links millions of ticketed apparel items directly to mobile information,
says Johnathan Bulkeley, chief executive officer of Scanbuy. This new solution will enable brand owners and retailers to stand apart in an increasingly competitive environment and more effectively cross-sell complimentary products and services."

Our new mobile-merchandising solution will deliver purchasing suggestions, images, special offers and virtually any type of promotional messaging to shoppers as they are in the process of making buying decisions in the store, adds Avery Dennison's Terry Hemmelgarn - group vice president, Retail Information Services. The information appears on the screen of a consumer's camera phone, turning the device into a kind of personal sales assistant that provides bottom line benefits to retailers of any size, in virtually every worldwide retail segment and location. These benefits include increased units and dollars per transaction, improved traffic and conversion, and promotion of consumer loyalty.

Hemmelgarn says that the new solution will also allow consumers to communicate product options and gift ideas to friends and family while they shop. 'shoppers can forward the images they capture to obtain a purchase opinion or perhaps just to share the excitement of their shopping experience, he notes. Ultimately, our solution taps into the expanding needs of consumers for personalized attention and retailers needs to provide on-the-spot sales messaging.

The Technology
Avery Dennison's mobile-merchandising solution utilizes Scanbuy's existing ScanLife application to facilitate the capture of 2D barcodes. ScanLife, which can be used on over 250 million mobile phones and is compatible with hundreds of different phone models worldwide, supports all major operating systems, including Android, BlackBerry, BREW, iPhone OS, Java, Symbian and Windows. In addition, the ScanLife application is pre-loaded in certain global regions by leading wireless manufacturers, such as LG, Nokia and Samsung.

The solution can be used in a number of ways, like giving sales suggestions for accessories or compatible items. For example, scanning a 2D barcode on a red dress can give the shopper images of a model wearing the dress, along with matching shoes, handbag and scarf that are available in the store.

Or a shopper looking for camping gear could scan a 2D barcode on a tent and receive images of a lantern, cooking grill or fishing gear that may be available as part of a cross-promotion. If an item was available on sale, a retailer could then deliver an electronic coupon for redemption at the point-of-sale.

The solution will use EZcode (2D barcode) technology which can be produced on existing labels in smaller physical sizes, making them a discreet component on nearly any size item.

Commercial pilots of the mobile merchandising solution will be launched later this year with major retailers and apparel manufacturers.

Third-party trademarks and trade names used herein are the property of their respective owners.

About Avery Dennison Corporation

Avery Dennison is a recognized industry leader that develops innovative identification and decorative solutions for businesses and consumers worldwide. The Company's products include pressure-sensitive labeling materials; graphics imaging media; retail apparel ticketing and branding systems; RFID inlays and tags; office products; specialty tapes; and a variety of specialized labels for automotive, industrial and durable goods applications. A FORTUNE 500 Company with sales of $6.7 billion in 2008, Avery Dennison is based in Pasadena, California and employs more than 36,000 employees in over 60 countries.

About Scanbuy Inc.
Scanbuy is the leading global provider of mobile barcode solutions that use the camera phone as the link between the physical world and the digital world. The ScanLife solution consists of a mobile application, Code Registry, Code Clearing House and Code Management Platform. The technology has been successfully deployed and supported by leading mobile providers and handset manufacturers in the United States, Mexico, France, Spain, Italy and Denmark. Media companies and marketers use the solution to create and manage measurable 2D barcode campaigns, extending brand engagement onto mobile devices.
For more information on Scanbuy, please visit www.scanbuy.com or www.scanlife.com.
Read more news about Avery Dennison:
RFID Technology Avery Dennison at NRF 2009
Fashion Technology Article Posted January 15, 2009
Avery Dennison Brand Management Division Launches New Website
Fashion Technology Article Posted October 15, 2008
Avery Dennison Upgrades ItemSight DoD RFID Compliance Solution for Apparel and Textile Producers Fashion Technology Article Posted October 6, 2008
President and CEO of Avery Dennison Addresses RFID in Fashion 2008 Conference Fashion Technology Article Posted August 2, 2008
Avery Dennison Launches New Eco-friendly Heat Transfer Solution Fashion Technology Article Posted April 8, 2008