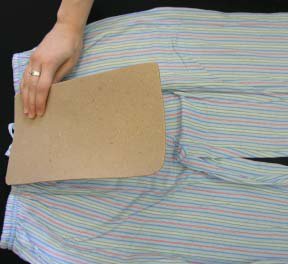 The apparel industry uses chipboard for folding and packaging purposes. Garments are occasionally folded over a chipboard to provide stability for the folded garment. The chipboard can also help maintain the measurement required of the folded garments.
The chipboard is typically, paperboard or cardboard, which is produced in various thickness or paper stock. It might made up of one or several plies.
Chipboards provide support so that the garment does not flop around. The chipboard is used during the folding and packing process. Chipboards are used to assists with holding shape. A type of paperboard (cardboard) generally made from reclaimed paper stock (but not required to be reclaimed paper stock); the term generally used in the US.

Within the industry, paperboard is referred to by weight (grams per square meter, pounds per 1000 square feet) or by thickness (mm or thousandths of an inch, or 'points' - for example, 0.007" thick paperboard is also known as 7-point. The chipboard can come in various colors, coating, shapes and weights.
Chipboard is typically discarded by consumers after they open they unfold their new purchases and remove the clothing from the packaging.