A bra, short for brassiere, is a form-fitting undergarment designed to support or cover the wearer's breasts. Cotton is a soft, fluffy staple fiber used to make yarn. The yarn is then converted to fabric which in turn is used to manufacture clothing such as undergarments. Cotton bras are popular for a variety of reasons.
We suggest that you keep cotton bras in your lingerie wardrobe. From push-up and t-shirt styles for everyday wear to strapless and bandeau designs for tops with unique necklines, you need a comfortable bra for nearly every occasion.
The summer heat and certain fibers such as nylon can cause a few itchy & uncomfortable days. A soft & breathable cotton bra may be the answer. You can go with regular or organic cotton bras because both can provide comfort (if you the bra is designed properly and you have selected the proper size).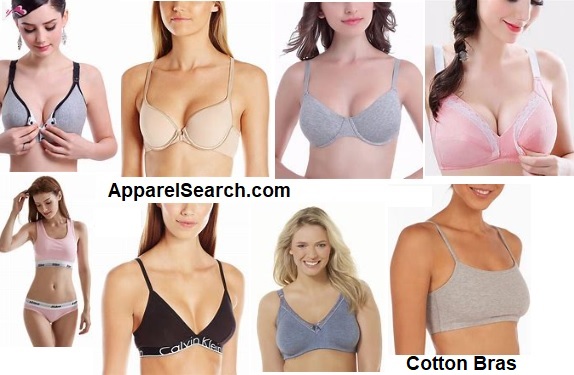 Bras come in a wide variety of shapes, sizes, fabrics, etc. It is important to do your research and find the right type of bra for your body and sense of style. You will find many different features such as underwire, cups, straps, etc. Each version has different pros and cons. You can find many websites and blog posts to help you with top tips for selecting the perfect bra. Take the time to do some research. Selecting a bra is about more than finding the prettiest bra or finding a bra in your favorite color. Selecting a bra has real health and comfort-related considerations.
Learn more about bras from the bra glossary.
Apparel Search is a leading guide to fashion, style, clothing, glam and all things relevant to apparel. We hope that you find this Women's Cotton Bra page to be helpful.
What ever you are wearing, is in fashion.
If you want to be even more stylish, you should wear your Women's Cotton Bras.

Thank you for using the Apparel Search website.