Hosiery is stockings, socks, and tights collectively. Hosiery, also referred to as legwear, describes garments worn directly on the feet and legs.
Cotton is a soft, fluffy staple fiber. The fiber is most often spun into yarn or thread and used to make a soft, breathable textiles.. Being a breathable fabric is only one of the many advantages of using cotton for socks. Learn more about the benefits of cotton fabric on the fashion blog.
FYI: their is a very good argument to be made for why wool is best for socks and nylon for pantyhose. Pantyhose are generally made from a nylon-based blend of synthetic fibers. The nylon most commonly used—Nylon 6,6—is made from adipic acid, an organic acid, and hexamethylene diamine, an organic base, which are chemically combined to form a nylon salt.
Apparel Search is a leading guide to fashion, style, clothing, glam and all things relevant to apparel. We hope that you find this Women's Cotton Hosiery page to be helpful.
What ever you are wearing, is in fashion.
If you want to be even more stylish, you should wear your favorite cotton hosiery today.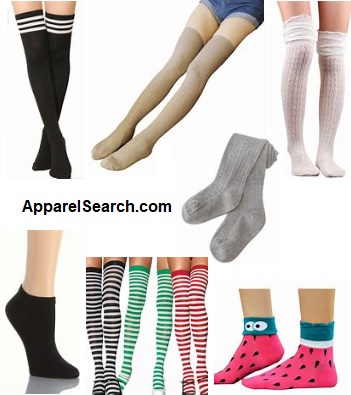 We hope that you have found enough women's cotton fashion to satisfy your needs.. If you are done with this section, you can return to the women's fashion guide for more choices.
Or you can continue to learn about women's cotton fashion.

Thank you for using the Apparel Search website.