What are leggings? They are tight-fitting stretch pants, typically worn by women. It is a bit tricky to distinguish between leggings, pantyhose & tights so we have created a special page to help understand the differences.
Leggings refer to several types of leg coverings. Modern usage from the 1960s came to refer to elastic close-fitting garments worn over the legs typically by women, such as leg warmers or tights.
Tights are a kind of cloth garment, most often sheathing the body from the waist to the toe tips with a tight fit, hence the name. They come in absolute opaque, opaque, sheer and fishnet styles or a combination of them, such as the original concept of the American term pantyhose with sheer legs and opaque panty. There are many sub-classifications of tights or pantyhose that describe the precise construction (such as control top, seamless, support and sheer). Although most tights are mainly nylon or cotton, lycra is normally included in modern blends to improve fit.
Leg warmers are coverings for the lower legs, similar to socks but thicker and generally footless. Leg warmers are worn to keep the lower legs warm in colder weather. They can be tubular sleeves, long fabric wrappings, or simple pieces of fur or fabric tied around the calves. They are used in several outdoor activities and sports including cycling, soccer, hockey, hiking ice skating, and dance. Traditionally knitted from pure sheep wool, modern variants are more typically made of cotton, synthetic fibers, or both.
Leggings prominently returned to women's fashion in the 1960s, drawing from the form-fitting clothing of dancers. With the widespread adoption of the synthetic fiber Lycra and the rise in popularity of aerobics, leggings came to further prominence in the 1970s and '80s, and eventually made their way into streetwear. Although Lycra was popular other fibers such as cotton have also been available options. Leggings are a part of the late 2010s athleisure fashion trend of wearing activewear outside sporting activities and in casual settings, which became a contentious social norm in the United States.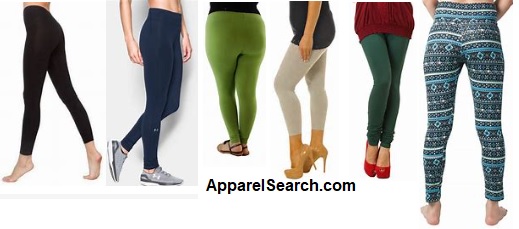 Do you know about "jeggings"? Jeggings are leggings that are made to look like skin-tight denim jeans.
What are yoga pants? Learn more about yoga pants in our fashion influence section.
Do you know why cotton is a fantastic choice for clothing? Learn the benefits of cotton fabric.
Apparel Search is a leading guide to fashion, style, clothing, glam and all things relevant to apparel. We hope that you find this Women's Cotton Leggings page to be helpful.
What ever you are wearing, is in fashion.
If you want to be even more stylish, you should wear your Women's Cotton Leggings.
We hope that you have found enough women's cotton fashion to satisfy your needs.. If you are done with this section, you can return to the women's fashion guide for more choices.