Welcome to the worlds greatest guide to Women's Long Sleeve Raglan Top. Are you actually looking for long sleeve raglan tops for women? Well, we hope you are because the reality is that you have found our page on the topic.
The raglan is a type of sleeve.
The distinguishing characteristic of this type of sleeve is that it extends in one piece fully to the collar, leaving a diagonal seam from underarm to collarbone giving the garment a relatively undefined look.
A women's raglan sleeve top can come in various sleeve lengths. The long sleeve raglan is one example.
Women's raglans can be designed as various types of tops such as t-shirts, sweaters, sweatshirts, etc.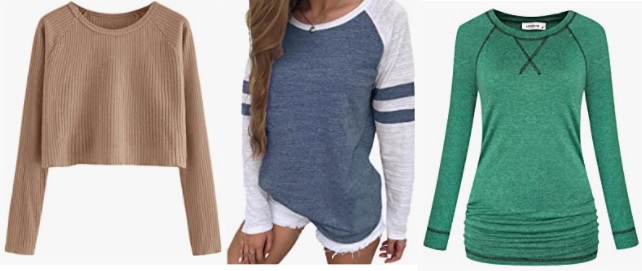 Its diagonal seam line can lead into another seam or form part of a neckline. It can be cut on the straight or bias grain, with a one- or two-piece construction. The shoulder curve is part of the sleeve shape, and is created by a dart, a seam, or gathers.
Learn more about raglan sleeves in our fashion terminology section.
Women's long sleeve raglan tops often has contrast color sleeves. It is not necessary to fit into this category of shirt, but it is often designed in this manner.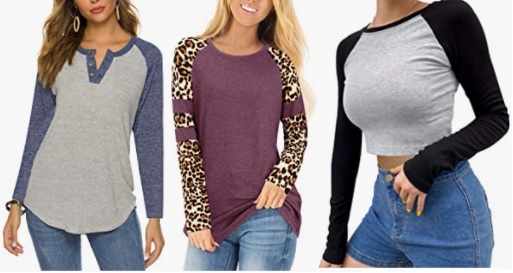 Learn about women's raglan t-shirts if you are interested in short sleeve options.
Apparel Search is a leading guide to fashion, style, clothing, glam and all things relevant to apparel. We hope that you find this Women's Long Sleeve Raglan Top page to be helpful.
What ever style of shirt you are wearing today, is in fashion.
Learn about different shirt styles in our terminology section.
If you want to be even more stylish, you should wear your favorite Women's Long Sleeve Raglan Top.
You may find the following resources to be of interest.
Fashion Clothing Retail Stores Clothes Shopping
Fashion News Fashion Designers Popular Brands
Apparel Women's Clothing Stores Women's Clothing Wholesalers
Women's Fashion Shop for Women's Clothing

Learn about more categories of women's clothing:
Have you seen our Fashion Designer Directory section?