Welcome to the worlds greatest guide to Women's Waterproof Boots. Are you actually looking for Women's Waterproof Boots? Well, we hope you are because the reality is that you have found our Women's Waterproof Boots page.
Waterproof boots are manufactured with the goal of keeping your feet dry. This is achieved by the materials used and the production process. Some boots are produced with a proper waterproof design (while others are not).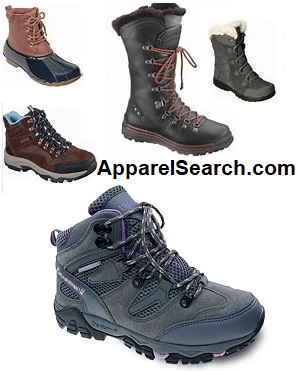 If you have leather boots and wish to waterproof them, we suggest you search the internet. You will find various methods to waterproof your leather boots. Try YouTube to watch videos on the subject.
Women's waterproof boots come in a wide assortment of colors, styles, & fabrications.
Learn about Duck Boots which are often a favorite.
Learn about rain boots in our fashion influence section.
The Wellington boot was originally a type of leather boot adapted from Hessian boots, a style of military riding boot. They were worn and popularized by Arthur Wellesley, 1st Duke of Wellington. The "Wellington" boot became a staple of practical foot wear for the British aristocracy and middle class in the early 19th century. The name was subsequently given to waterproof boots made of rubber and they are no longer associated with a particular class. They are now commonly used for a range of agricultural and outdoors pursuits.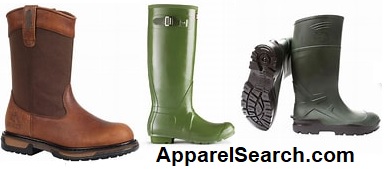 If you intend to go deep into the water, we would suggest waders. Wading boots refer to waterproof boots that extend from the foot to the chest or even the neck. However, there are wading boots that are designed to be worn just on the feet like any other shoes.
Learn about waterproofing fabrics.
Learn about women's rain boots.

You may find the following footwear styles to be of interest: